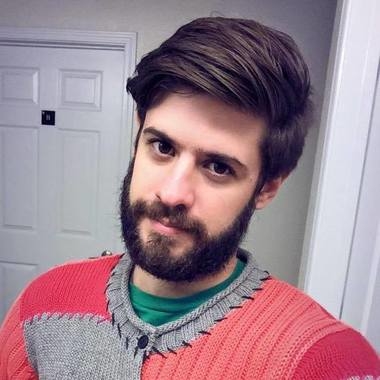 Jaime Fraina
Designer
Location
Longmont, CO, United States
Toptal Member Since
June 5, 2017
Jaime has years of experience working as a UX designer for clients such as Microsoft, US Army, USPS, and Verizon at MRM//McCann. He is also the founder of Giant Fox Studios, an indie game and web development studio with over 200 published games and websites. He is extremely passionate about optimizing experiences and project management to increase business KPIs and making the team more efficient.
Work Experience
2020 - PRESENT
Senior UX Designer
Scopely
Designed the UX flows and wireframes for a new game with a large IP.
Technologies: Confluence, Jira, Principle, Sketch
2011 - PRESENT
Founder, Product Manager, Game/UX Designer, Programmer
Giant Fox Studios, LLC
Managed all of the clients and developers that have worked on over 200 published games and apps.
Worked with clients to create design documents and prototypes. Found the best contractors to work on these materials, managed the teams, and sometimes programmed a whole game myself too.
Investigated analytics in the games to iterate the design, leading to increased ARPU and retention.
Managed up to seventeen projects simultaneously.
Worked on a portfolio of web games with a total play count of over forty million. Some of the mobile games have made it into the Top 10 of the iOS App Store multiple times.
Technologies: Adobe Animate, Adobe Flash, Unity3D, Apple Keynote, Google Docs, Confluence, Adobe Photoshop, C#, Balsamiq, InVision, Sketch
2019 - 2020
Senior UX Designer
Backflip Studios
Designed UX flows, information architectures, and wireframes for mobile games with large Hasbro IPs.
Conducted user interviews, research, and testing to improve retention and monetization KPIs for a mobile game in soft launch.
Redesigned UX flows for live-ops events in our biggest game, DragonVale.
Technologies: Unity3D, Jira, Confluence, Principle, Sketch
MRM//McCann
Created user stories to show all of the experiences we want users to have.
Designed low and high fidelity wireframes based on the strategy brief, user stories, analytics, business KPIs, and any other data that can be used to make informed decisions following best practices.
Created interactive prototypes for digital experiences for clients such as Microsoft, US Army, USPS, and Verizon using InVision or Principle.
Created highly detailed functionality specs to ensure the design and development teams are all on the same page as to what is being built.
Conducted user testing on prototypes to validate design decisions and iterate to reduce friction points before development starts, saving clients time and money later on.
Technologies: Google Sheets, Google Docs, Adobe InDesign, Apple Keynote, Adobe Photoshop, InVision, Principle, Sketch
2016 - 2016
Freelance Senior Product Manager
MRM//McCann
Created wireframes and developed a prototype for an advergame for the US Army and FOX. The experience was made to promote STEM Army careers within an Independence Day 2 theme.
Helped the team stay on target through development using jira and Confluence after UX Design was complete.
Created four missions and a social team challenge all within 12 weeks.
Increased the amount of users interested in STEM Army careers by 80%.
Technologies: InVision, Trello, Confluence, Jira, Sketch
2013 - 2014
Producer/Project Manager
High 5 Games
Managed a team of nine artists and nine sound designers to create assets for up to nine games each month.
Led the UX design and production of High 5's Video Poker mobile app from preproduction to release.
Used Jira, Confluence, Microsoft Excel, and VBA to create tools that optimized team efficiency to produce significantly more games than the previous year.
Conducted producer reviews on all games that were in progress, outlining issues and making executive decisions on what aspects to change in order to keep things on schedule.
Managed the development of High 5's Chinese gambling app, Shake The Sky. Launched with twelve casino games in it, and added a new one every week.
Technologies: Visual Basic for Applications (VBA), Google Docs, Outlook, Microsoft Excel, Confluence, Trello, Jira
2011 - 2013
Lead Game Designer, Product Manager
Bored.com
Designed web/mobile games and managed internal and external teams to release one new game every week.
Helped grow our traffic to one million impressions per day.
Hired and managed the entire internal game development team when the company moved to Dubai.
Used Unity 3D, AIR, Flash, and GameSalad to code web and mobile games which now have over 20 million plays.
Found indie games that were looking for publishers and negotiated deals with developers to have them on our platform.
Managed our community of 750k followers.
Technologies: Unity3D, GameSalad, Balsamiq, Xcode, ActionScript 3
2008 - 2010
Game Designer/Project Manager
Emergent Media Center
Managed a team of fellow students to create a game to help kids learn how to research.
Provided design input on a game to help fight violence against women in Africa with the UN as the client.
Created several levels for a game in Unity 3D using prefabs created by developers.
Took meeting notes and followed up with tasks to make sure everything stayed on schedule.
Designed educational puzzles and challenges.
Technologies: Basecamp, Microsoft Office, Torque 3D
Education
2006 - 2010
Bachelor's Degree in Interactive Media Development (focus on Game Design)
Champlain College - Burlington, VT