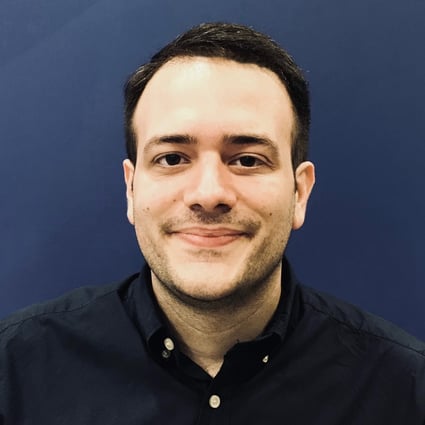 Nikos Pappas
Designer
Location
Athens, Central Athens, Greece
Toptal Member Since
August 16, 2017
Nikos is a product design, UX, and CX professional with 7+ years of experience. He fosters deep collaboration between design, engineering, and other disciplines in order to define, design, and develop the right products and provide impactful digital experiences. By focusing on people, he excels at crafting seamless digital experiences and developing solutions to complex problems.
Work Experience
2018 - PRESENT
Senior Product Designer
ANIXE - FTI Group
Crafted digital experiences for an international audience of thousands of tour operators and travel agents. ANIXE - FTI Group's internet booking engine (IBE), Youtravel.com, supplies accommodation, transfer, and excursion products.
Led and coordinated the service design and user experience research activities across key locations and markets, such as Dubai (UAE), London (UK), Malta, and Orlando (US), to ensure that all target audiences' needs are considered and addressed.
Improved the conversion channels on Youtravel.com by designing experiences around users' needs and wants.
Analyzed how users use the search module and decreased the average search time (per task) from 21.2 to 5.35 seconds (-74.8%) and minimized users' average number of attempts to find what they are looking for from 3.4 to 1.8 (-45.9%).
Deployed monitoring tools and established processes that provide a clear overview of customers' overall experience with Youtravel's IBE so that our Agile teams could promptly detect swifts in the market and/or user behavior and respond quickly.
Technologies: Metabase, Google Analytics, Hotjar, Principle, Adobe Photoshop, InVision, Zeplin, Sketch, Product Design, Field Studies, SaaS Design
2017 - 2018
Senior Product Designer and Interim Product Owner
Home Run
Defined the product vision for Home Run's partner and shopper web and mobile applications. Designed new processes and crafted new experiences for Home Run's partners.
Fostered closer collaboration between product and operations teams to improve two key business metrics: units [collected] per hour (UPH), which soared by 88%, and on-time performance (OTP), which reached 97%.
Led the UX, CX, and SD activities for customer-facing and partner products from usability testing to customer journey maps and service blueprinting. Defined and prioritized new features development.
Leveraged usability optimization to improve the path to purchase and customer engagement by analyzing users' behavior and conducting online testing of features, structures, and user interface design approaches to boost conversions.
Increased conversion for certain customer segments by an impressive 320%. Monitored vital CX-related KPIs (e.g., NPS, complaint frequency and type, and retention cohorts) to identify improvement opportunities.
Designed the final UI elements and organized them into design systems, interactions, and style guidelines.
Contributed to creating and executing the campaign for Home Run's successful equity crowdfunding round on Seedrs.
Improved Home Run's partner app results for harnessing technology and design thinking to improve operations: UPH soared by 88%, OTP reached 97%, and communication had 65x fewer messages between operations and partners.
Technologies: Principle, Zeplin, InVision, Adobe Illustrator, Adobe Photoshop, Adobe Experience Design (XD), Sketch, Product Design, iOS UI Design, Field Studies
2016 - 2017
Senior Product Designer
Vidpulse
Worked for Vidpulse (SaaS), an advanced video content analytics and recommendations tool that helps digital publishers uncover viewing habits, recirculate traffic, and measure video ad performance.
Led the UX research (qualitative and quantitative) for reEmbed's new platform, Vidpulse.
Played an active role in the strategy formulation and definition of the product development roadmap.
Crafted Vidpulse's online video analytics platform (dashboard) from scratch.
Designed the final UI elements and organized them into design systems, interactions, and style guidelines.
Significantly improve reEmbed's recommendation feature through a deep design, including the information structure, interaction design, and user interface.
Tested the recommendation feature constantly by deploying tailor-made A/B/N experiments and a sample of hundreds of thousands of users who were exposed to the feature on a daily basis.
Achieved an average 55.40% improvement in our core mobile KPI: end screen-to-page CTR.
Created a new mobile video gallery experience for digital publishers that aimed to boost video content consumption and user engagement.
Technologies: Principle, Zeplin, InVision, Adobe Experience Design (XD), Sketch, Product Design, SaaS Design
2014 - 2016
Digital Product Designer
ELTRUN
Developed the UX strategy for ELTRUN, the eBusiness research center of the Athens University of Economics and Business (AUEB).
Conducted user experience research, including contextual research, ethnography, empathy maps, user journey maps, product/market fit mapping, and usability testing.
Made key contributions to the formation of each product's digital strategy.
Curated design workshops with various stakeholders. Created the final UI elements. Designed the visual narrative and supervised the final implementation.
Contributed to various awarded and innovative digital projects for FMCG suppliers and retailers, such as Nestlé, Johnson & Johnson, and Ahold (AB Vassilopoulos).
Technologies: ZenHub, Draw.io, InVision, Adobe Illustrator, Adobe Photoshop, Product Design, Field Studies
Education
2015 - 2017
Master of Arts Degree in Digital Communication
American College of Greece - Athens, Greece
2008 - 2014
Bachelor's Degree in Mathematics
University of Athens - Athens, Greece
Certifications
FEBRUARY 2021 - PRESENT
NN/g UX Certification
Nielsen Normal Group
APRIL 2019 - PRESENT
Managing the Company of the Future
London Business School
FEBRUARY 2019 - PRESENT
Product Management: Building a Product Roadmap
LinkedIn
MARCH 2018 - PRESENT
Fostering Innovation
LinkedIn
FEBRUARY 2018 - PRESENT
Agile Product Owner
LinkedIn
JULY 2016 - PRESENT
Facebook Blueprint
Facebook
APRIL 2014 - PRESENT
Gamification
The Wharton School
AUGUST 2013 - PRESENT
Art and Inquiry
The Museum of Modern Art (MoMA)