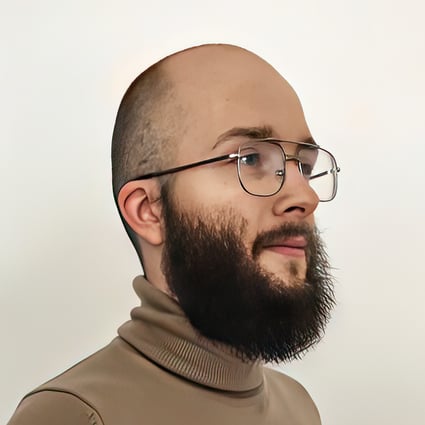 Szymon Dziukiewicz
Designer
Toptal Member Since
April 27, 2017
Szymon is a product designer from Krakow, Poland, currently working for a software house in Poland as head of design. He specializes in creative direction for digital products as well as interface designs. Szymon's main goal is crafting tailor-made digital products and designing unique and clean web/mobile user interfaces for memorable user experiences.
Work Experience
2019 - 2022
Head of Design
Ready4S
Led a team of four designers creating UI and UX solutions for startups and corporations.
Conducted workshops with clients using different methodologies. Used Google Design Sprint to test clients' ideas quickly.
Managed the UX architecture of mobile applications, working with beta-testers of applications and performing A/B tests.
Kept the app UI clean, in line with current trends, and built from well-known patterns from material design and iOS human interface guidelines.
Worked on visual designs of applications and marketing materials for startups and corporations, using custom illustrations and modern 3D renders.
Technologies: Principle, Adobe After Effects, InVision, Sketch, Figma
2018 - 2019
Product Design Lead
Pirios
Optimized the experience in B2B applications used by emergency hotline workers to use the interface twice as fast.
Conducted user research with employees of emergency hotlines, using A/B testing and heat maps to improve the user experience.
Led a team of two designers working on B2B applications focused on hotlines used by energy providers and emergency hotline sales teams.
Worked as creative director for the whole company, overseeing the logo, brand strategy, and marketing materials.
Led the strategy for creating B2B products used by energy providers and telco companies.
Technologies: Adobe After Effects, Lottie, InVision, Sketch
2016 - 2018
Visual Designer
Penceo Sport
Worked for international sports federations like FIBA (International Basketball Federation).
Designed the official website for FAI (Fédération Aéronautique Internationale) and FIE (International Fencing Federation).
Created and managed social media strategies for FIVB (Fédération Internationale de Volleyball), World Bowling, and players like Lucas Pouille.
Technologies: Adobe After Effects, Adobe Illustrator, Adobe Photoshop, InVision
2015 - 2016
UI/UX Designer
Miquido
Designed the Picniic mobile app, one of the best apps of 2016, according to TIME magazine.
Created the brand identity for Ardigen, a bioinformatics company in Poland.
Designed a mobile game that helps to learn languages.
Worked on mobile banking apps, such as for Nest Bank.
Technologies: Adobe After Effects, Adobe Illustrator, Adobe Photoshop, InVision, Proto.io, UXPin, Sketch
2014 - 2015
Junior Web Designer
Promopixel
Worked on websites and branding for small companies, helping them approach clients.
Optimized purchase flows and product displays for eCommerce websites.
Designed visuals for social media (Instagram and Facebook).
Technologies: Adobe Illustrator, Adobe Photoshop
Education
2012 - 2019
Master's Degree in Informatics and Econometrics
AGH University of Science and Technology - Krakow, Poland
Certifications
JANUARY 2016 - PRESENT
UX Design for Mobile and Web
Edisonda