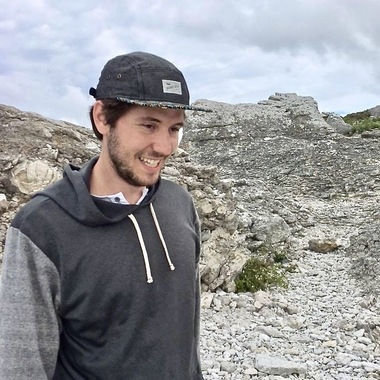 Tyler Wolf
Designer
Location
Stockholm, Sweden
Toptal Member Since
July 15, 2015
For the past seven years, Tyler has worked as a veteran digital product professional spanning user experience design, data visualization design, and front-end development. He was a user experience designer at E*Trade and spent two years running product development at a blockchain startup. His work can be seen in publications by The Brookings Institution. He was awarded a patent for one of his interface designs. Tyler is a great communicator.
Work Experience
2018 - PRESENT
Data Visualization Designer
The Brookings Institution
Designed and implemented interactive data visualizations for Brookings Institution's online content.
Implemented charts with full-browser compatibility using D3.js. These charts are published to a global audience on a well-known platform.
Worked closely with experienced economic researchers to convert their visions into live visualizations.
Technologies: Sketch, D3.js
Sentinel Labs
Redesigned the information architecture and UI design of the Sentinel Labs commercial real estate platform.
Incorporated user feedback on the previous platform design to pare down extraneous functionality.
Redesigned UI, optimizing for a smooth UX and promoting most-used platform functionality.
Designed data visualizations to provide key insights about user data.
Designed a dashboard to provide actionable content for users on first login.
Technologies: HTML, CSS, AngularJS, Sketch
2017 - 2018
Data Visualization Designer
Sun Genomics
Designed an engaging visualization for Sun Genomics' customer reports.
Created an interactive visualization design to illustrate customer biome data.
Built a hybrid visualization to animate deterministically placed visual marks based on user input.
Designed an interface where users could explore a series of test results through a table/interactive chart UI.
Technologies: Sketch, D3.js
2017 - 2018
UX/Data Visualization Designer
Yewno, Inc.
Designed the core UI of the Yewno financial platform (an AI research platform for investors).
Designed the data visualizations which were focused on simplifying the complex web of information surrounding investment research topics and illustrating the nature of their connections.
Created visualizations of portfolio investment structures aimed at surfacing key insights into portfolio performance.
Centered the designs around the user experience which converted information into knowledge for users, enabling them to explore their acquired knowledge in a natural, intuitive way.
Technologies: Sketch, D3.js
2015 - 2017
Director of Product Development
SolidX Partners
Designed a proof-of-concept blockchain app for embedding document proofs on the Bitcoin blockchain.
Coordinated a rebrand to coincide with the release of a blockchain-based cybersecurity platform.
Translated product requirements from stakeholders into functional designs and prototypes for the development team to build.
Managed the development team when deliverin the initial release of a flagship blockchain-based identity product.
Coordinated the initial release protocol and KPIs for the initial product release.
Technologies: JavaScript, InVision, Sketch, Ethereum, Bitcoin, Blockchain
2015 - 2015
User Experience Architect
E*Trade Financial
Designed the landing page updates for E*Trade's online brokerage platform.
Redesigned the trading UI that accommodates the stock-and-option trading along with various trading strategies.
Rearchitected the trading platform news section based on the information architecture and usage analytics.
Oversaw web accessibility and ensured that the new digital designs were ADA (Americans with Disabilities Act) compliant.
Technologies: InVision, Adobe Illustrator, Axure RP Pro, Sketch
2012 - 2015
User Experience Designer
Novus Partners
Worked, initially, as a front-end developer then shifted to a product/user experience designer.
Made incremental design improvements to the UI of the financial analytics platform.
Surveyed employees at hedge funds and allocators to understand product needs and used usage analytics to identify effective feature improvements.
Designed and maintained data visualizations across the platform.
Incorporated UX processes that were compatible with the company's previously implemented Agile software development processes.
Technologies: D3.js, JavaScript, Adobe Illustrator, Adobe Photoshop, InVision, Sketch
Education
2007 - 2009
Bachelor's Degree in Electrical Engineering
University of Southern California - Los Angeles, CA, USA
2005 - 2007
Completed Credits in Electrical Engineering
Trinity College - Hartford, CT, USA