Traditional talent models are under serious pressure. They represent a now-antiquated philosophy for pursuing opportunity: hire a pool of qualified individuals to respond to the needs of the business. Hire more as the business grows. But "hire and retain" just isn't working anymore, and the struggle is redefining how companies will drive objectives in the future. Complicating things further, many staffing firms have adopted a "throw spaghetti at the wall" approach, rather than providing the specific, high-quality talent companies demand.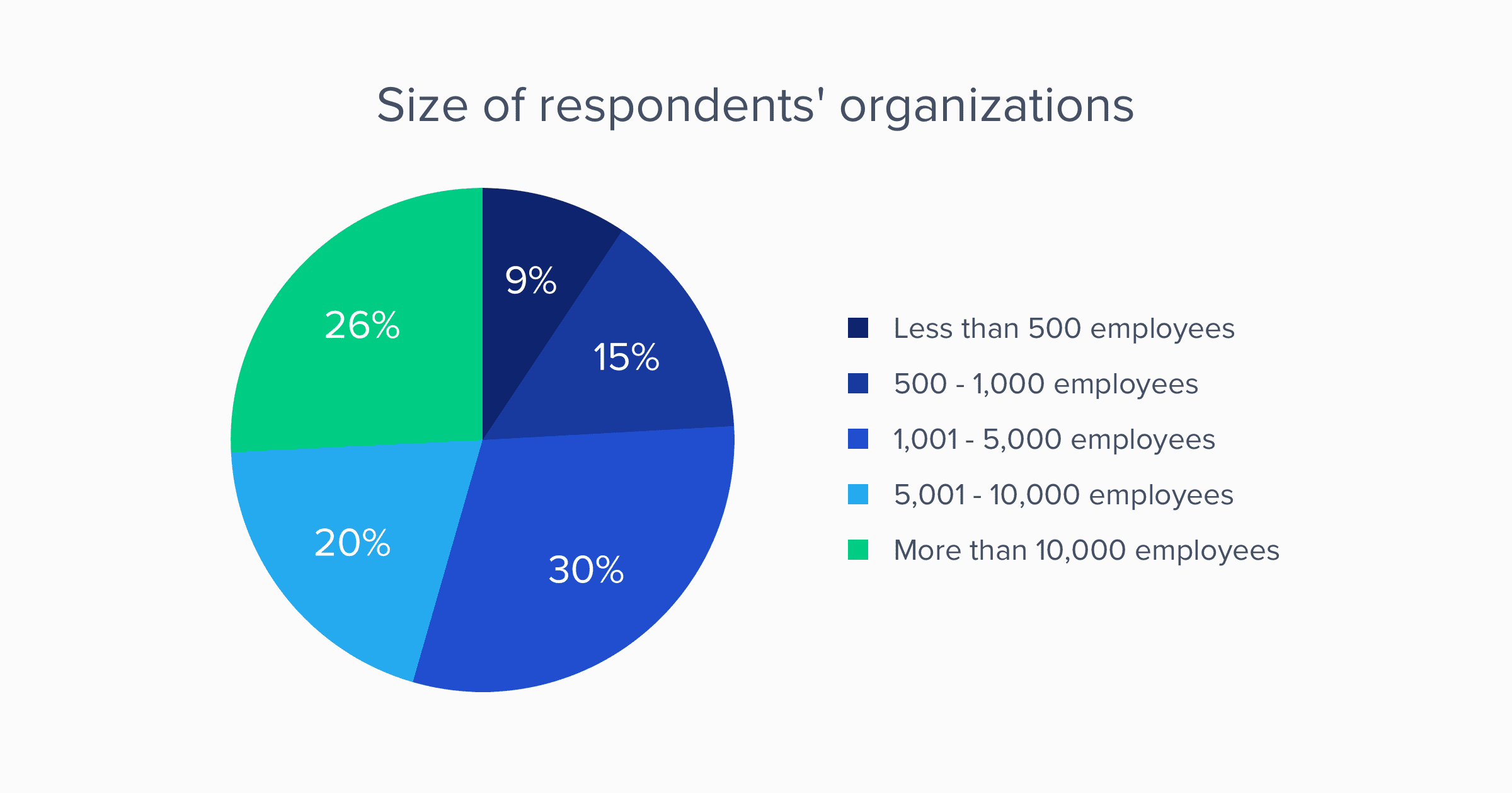 The Gap Is Widening
The Talent/Skills Gap is easily the most pernicious problem confronting procurement executives today—especially digital skills, the most in-demand skill group currently. It's predicted that the gap will cause visible disruptions in three quarters of organizations in 2020 (that's next year, by the way). Lest you missed the headlines, the unemployment rate is the lowest it's been in five decades, so it's not like there's a horde of IT programmers sitting out there untapped.
This gap is threatening organizations with stagnation, less vitality for competing and provide customer value. How can organizations move forward? Simple: adapt.
Leaving the Offices, Heading to the Clouds
The remote work revolution has been hot for a while now, in case you're late to the party. Decades of dissatisfaction with long commutes, isolating cubicles, and other aspects of traditional corporate culture have finally tipped the scales of progress. Workers now demand flexibility and the chance to self-define a lifestyle that doesn't revolve around a commute to and from an office, no matter how many kombucha kegs and skylights that office may have. Employees now seek out companies that are forward-thinking enough to provide remote options, or ditch employment contracts altogether in favor of full-time freelancing.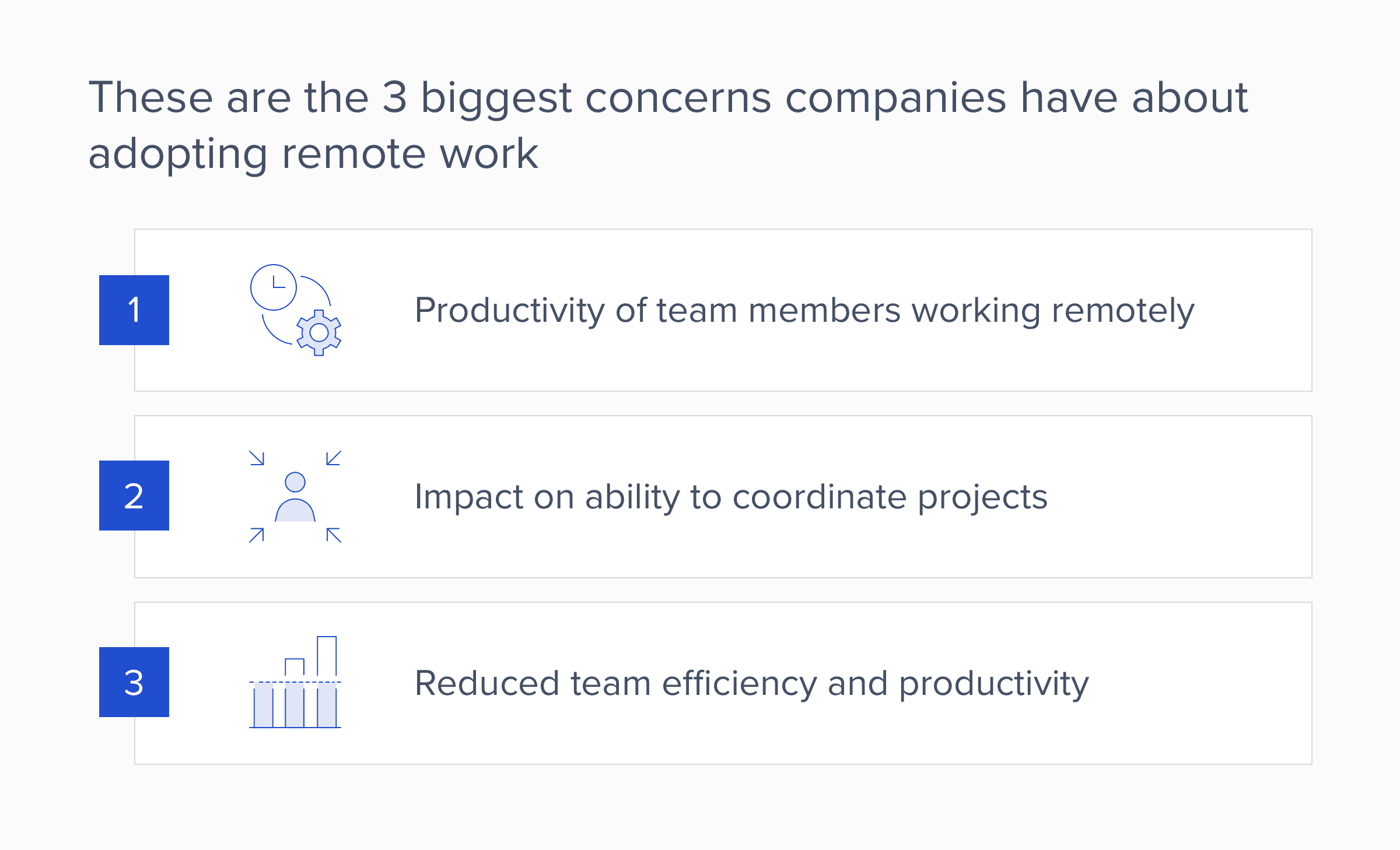 But roadblocks to working with remote talent (often synonymous with on-demand talent) are copious. Deep, incorrect beliefs about remote work myths as fundamental as whether remote workers can be productive still abound. Of the companies we surveyed, many of them cited concerns about efficiency, productivity, and engagement when asked about adopting remote work practices. The good news is that, given the considerable research around remote worker productivity and benefits to companies, adapting to the new talent economy in this regard is just a matter of mindset.
As more organizations move their IT and workflows to the cloud, it only follows that the workers themselves follow a similar cloud-like trajectory; hence the "human cloud." Technology is evolving specifically to support remote initiatives: Slack for team collaboration, Zoom for video conferencing, and Google's collaborative suite are just a few. 5G and VR are poised to bolster the remote work experience even more. More companies are migrating to the cloud than ever—88% of the UK in 2017—and will only accelerate the remote trend.
A New Talent Model
The thing is—as our data demonstrates—traditional employment is in some ways a headache for organizations anyway. They know it's time to evolve in favor of something better. Workplace happiness statistics have been hand-wringing for a while now, and the time has come to reevaluate the way we think about work.
This translates to the hiring process. Of the organizations we surveyed—roughly three-quarters of which were enterprise organizations with more than 1,000 employees—27% cited adding the right talent to their organization as the most critical challenge they currently face and 50% categorized it in the organization's top two or three challenges.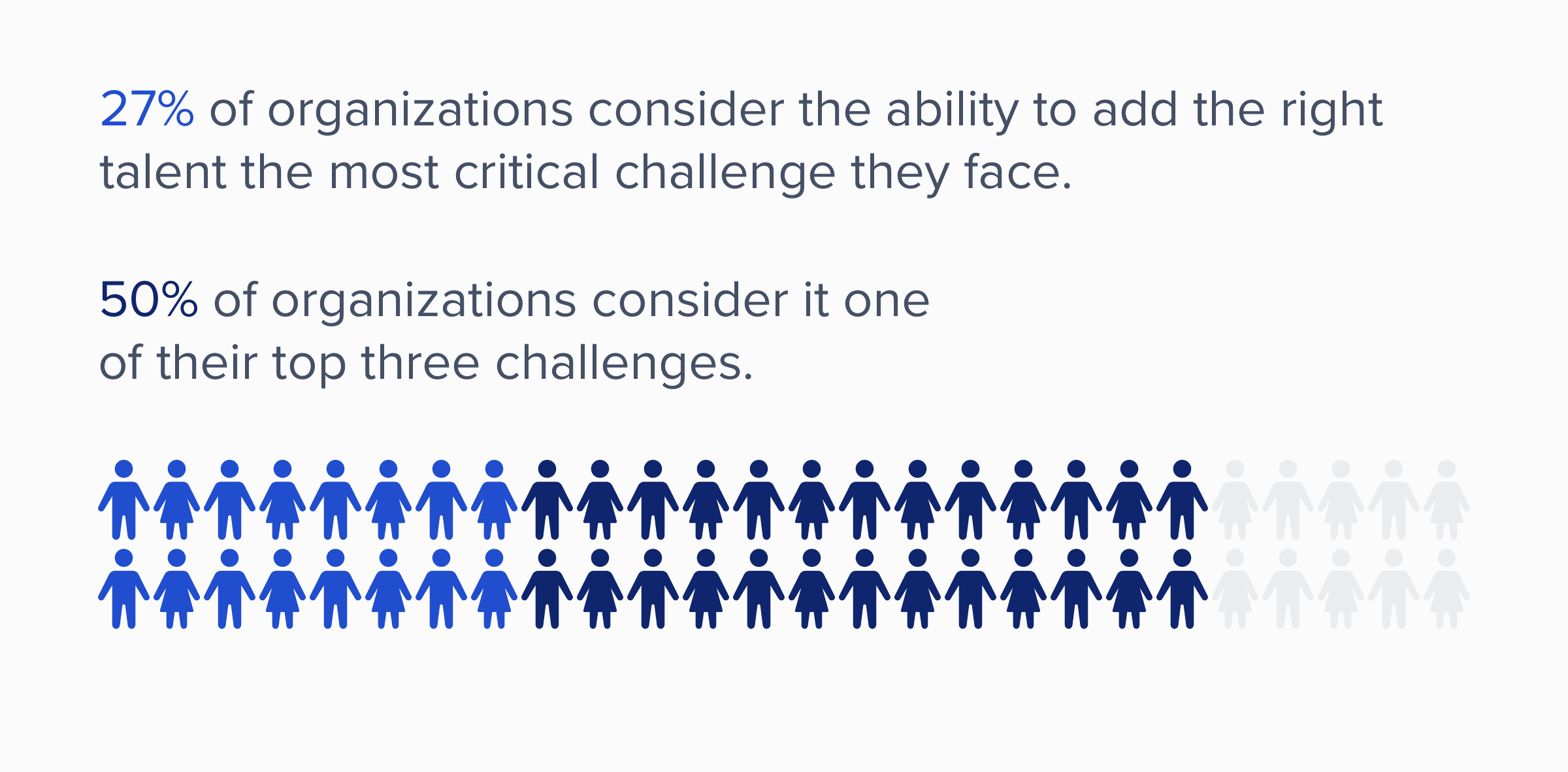 While organizations are concerned about who they work with, the equation is equally about how organizations work with talent. We're closing out the second decade of the new millennium, yet some organizations and institutions still believe that talented workers need to be physically present to make a difference for a team. There's no need to argue, the research simply proves them incorrect and many organizations (this one included) are a thriving testament to the power of distributed, remote teams. Within the next decade, qualified talent will be as likely to come from a neighboring suburb as halfway around the world; if your HQ is even a physical location anymore.
Organizations must embrace and leverage on-demand talent. Why? Expectations from talent are different; it's their market now. Workers are the new consumers, and many employers are adapting their models to match that demand. Companies that do not transform their approach to talent are missing a critical opportunity to attract and retain top talent, introducing a risk that will only threaten success more as the talent gap widens. In the transportation sector, for example, on-demand working models like Lyft and Uber have been welcomed by workers with open arms. It's no different for knowledge workers, IT professionals, and an expanding array of professional disciplines. Flexibility is everything, and on-demand models offer that.
Growing Pains
The good news is that adapting to these shifts and trends answers two needs with one solution, and organizations themselves stand to reap massive benefits by adopting new methodologies. Utilizing on-demand talent through various staff augmentation models, organizations can quickly leverage top talent as-needed or per-project. It shifts the oneus (read as: headache) of hiring and vetting onto the talent provider and saves employers the associated costs of retaining highly-skilled talent.
In some areas, the on-demand talent marketplace has improved. For example, organizations are generally more satisfied by the onboarding process for on-demand talent. But working with on-demand talent models is kind of like the consumerization of IT; consumers didn't all buy a smartphone on day 1. Now a smartphone is almost synonymous with a living, breathing human. Consumer needs informed the way smartphones evolved—there's a heck of a difference between the iPhone 1 and 11. In the case of on-demand talent, the metaphorical smartphones have only just come out of the box, and there are some serious growing pains that come with adapting to all those rings and dings. As in all periods of adaptation, those who do not adapt risk catastrophe. (See also: Blockbuster, Enron, Pan Am, MySpace . . . )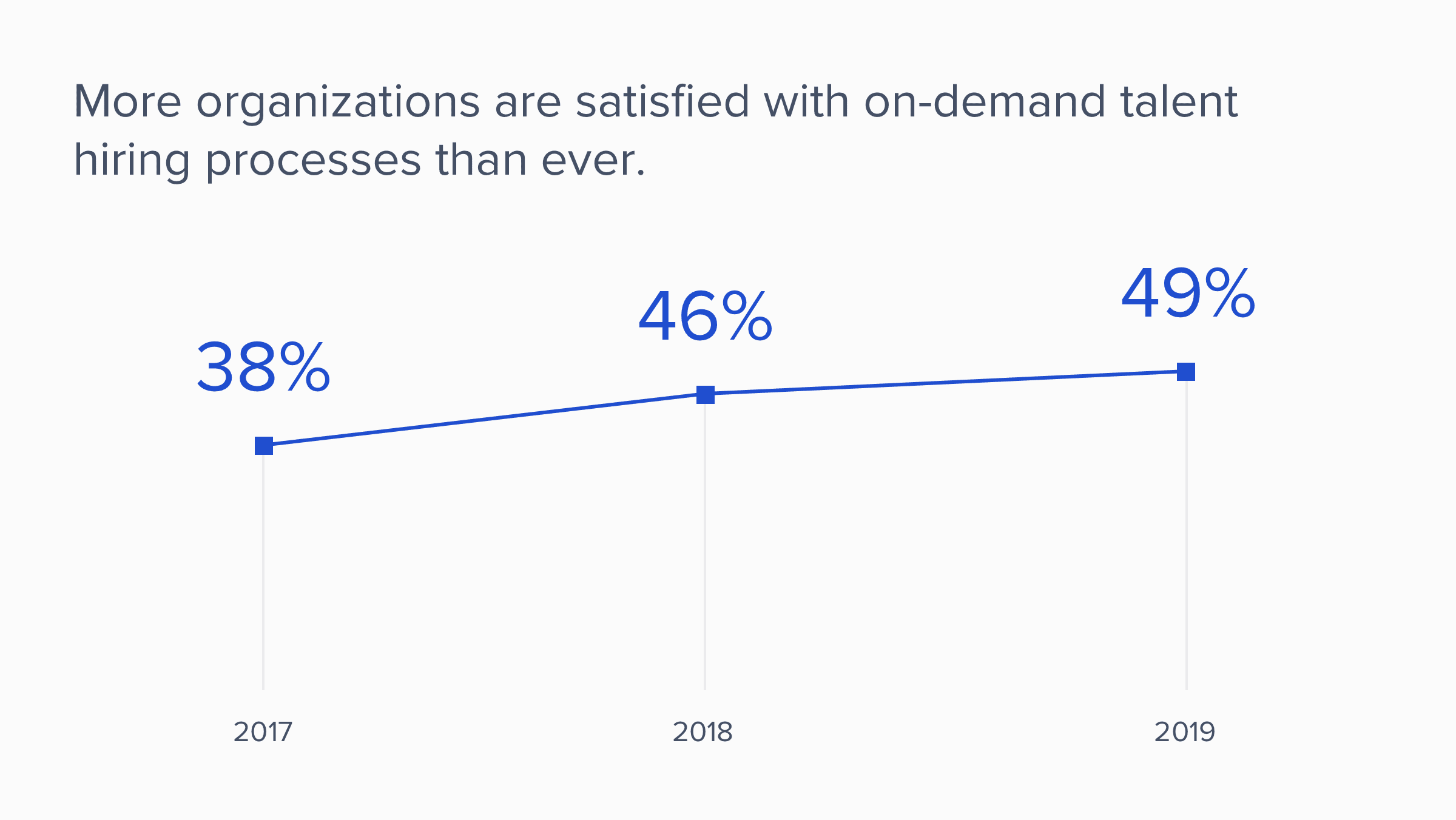 Sounds simple. Just fill in the talent gap with on-demand talent and enjoy increased agility and soaring profits, right? But it's not just about companies needing to adapt to the demands of the talent economy. Our data reveals some striking takeaways about the roadblocks and frustrations organizations are encountering when adapting to these new models, how they're thinking about and measuring success, and how their thinking has evolved from 2017 until now. A new bar is being set for on-demand talent.