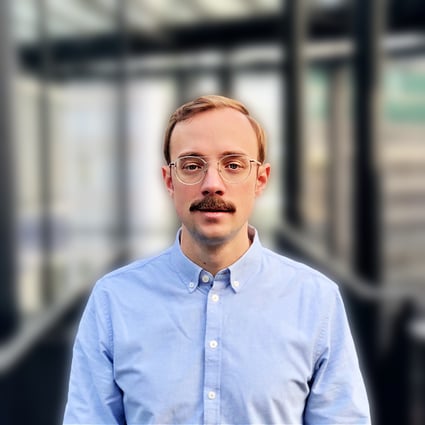 Michael Schmitt
React Developer
Toptal Member Since
March 16, 2022
Michael is a full-stack developer, indie maker, and former CTO. With over ten years of experience in startups and innovation projects, he has advanced expertise with complex software systems and the implementation of processes in fast, uncertain environments. He can transform developmental needs into intuitive, practical, and user-friendly digital experiences.
Preferred Environment
JavaScript, TypeScript, React, React Native, Node.js, Next.js, GraphQL, MongoDB, Redux, Mobile
The most amazing...
...product I've developed is Storyliner, a creative platform for copywriters and content teams. It was awarded the German Excellence Award.
Work Experience
2020 - PRESENT
Full-stack React Developer
Freelance
Built a cross-platform portal for internal communications for a 900-employee solid and global solution provider in the industrial mobility sector.
Built a real-time collaborative editing environment in React, like Google Docs or Notion.
Created a React component library with Storybook, Parcel, and TypeScript as an npm package.
Launched a web content clipper as a Chrome extension created with Create React App.
Bootstrapped Storyline, the AI-enhanced collaborative creative platform for corporate communications since 2020.
Received the German Excellence Award for my indie project Storyline.
Technologies: React, React Native, TypeScript, Next.js, Gatsby, Create React App, APIs, Artificial Intelligence (AI), Vercel, Figma, Chrome Extensions, GraphQL, Tailwind CSS, Styled-components, ESLint, Storybook, Node.js, Git, GitHub, MongoDB, Headless Software, CRDT, Slate.js, OpenAI, HTML, CSS, PostCSS, JavaScript, NPM, Private NPM Modules, Testing, Architecture, Full-stack, Full-stack Development, Jest, React Testing Library, Product Ownership, Product Development, Contentful, Technical Leadership, Software Architecture, AWS Lambda
2018 - 2019
Founder and Chief Technology Officer
SIGMUND TALKS
Designed and built a chatbot to automate marketing tasks for 2,500+ users.
Set the product roadmap and translated the vision into technical reality.
Led a six-person product team with designers and engineers.
Conducted more than 200 interviews with content creatives, content managers, and publishers to improve our product.
Awarded as Content Startup of the year 2018 at the Frankfort book fair.
Technologies: React, Styled-components, GraphQL, React Apollo, Apollo Server, Create React App, Node.js, Redis, MongoDB, Cloud Firestore, Dialogflow, Zapier, GPT, Generative Pre-trained Transformers (GPT), Natural Language Processing (NLP), Firebase, Google Cloud Platform (GCP), Chatbots, Conversational UI, Conversational UX, Conversational Interfaces, TypeScript, CTO, Startups, Startup Funding, Architecture, Full-stack, Full-stack Development, Team Management, Product Development, Team Leadership, Technical Leadership, People Management, Software Architecture
2017 - 2018
Agency Owner and Creative Technologist
Gravitales GmbH (self-employed)
Designed and developed digital products with design sprints. The 4-day process is a way to compress months of work into a few days.
Managed the conception of products or features and the technical implementation simultaneously as a creative technologist.
Participated in projects that ranged from marketing platforms, editorial systems, web portals, and campaigns to brand websites.
Technologies: JavaScript, React, Create React App, Next.js, Gatsby, APIs, Microservices, Express.js, Meteor, Design Sprints, UX Design, Prototyping, Concepting, Wireframing, Sketch, Mockups, HTML, CSS, MJML, Full-stack, Full-stack Development, User Experience (UX), React Redux, REST APIs, REST, PostgreSQL, Containers, Product Development, Technical Leadership, Software Architecture, AWS Lambda
2014 - 2017
Digital Consultant and Web Developer
mii ventures GmbH (self-employed)
Advised brands on their content strategy, information architecture, and online marketing strategy focused on SEO as the digital consultant.
Implemented mobile-optimized and responsive websites for more than 30 small and medium-sized companies.
Received the EXIST Business Start-up Grant for an indie project. This grant supports graduates and scientists in preparing innovative technology projects.
Developed a prototype MVP for a startup that later became a unicorn.
Technologies: HTML, CSS, JavaScript, WordPress, Responsive UI, Wireframing, Concepting, Sketch, Mockups, Google Analytics, Google Tag Manager, Search Engine Optimization (SEO), Responsive Web Apps, Analytics, Mixpanel, Product Development, Software Architecture
2012 - 2014
Research Associate and Project Manager
SKZ companies
Designed, developed, and led innovation projects of different sizes and acquired funding.
Developed an innovation project that led to a patented application.
Led work that was awarded the REHAU Prize for Technology.
Technologies: Fundraising, Concepting, Microsoft Excel, Project Management
Skills
Languages
JavaScript, TypeScript, HTML, CSS, GraphQL, SCSS
Frameworks
React Native, Next.js, Tailwind CSS, Redux, MJML, Materialize, Express.js, Jest, MUI (Material UI)
Libraries/APIs
React, Node.js, Social Media APIs, AWS Amplify, React Redux, REST APIs
Tools
React Apollo, Google Analytics, Dialogflow, Create React App, Figma, Git, GitHub, Hotjar, Zapier, Expo.io, Sketch, PostCSS, NPM, CAD, Microsoft Excel, AWS AppSync
Paradigms
UX Design, Web UX Design, Web UI Design, Microservices Architecture, Agile Software Development, Microservices, Testing, Search Engine Optimization (SEO), REST
Platforms
Mobile, Firebase, Google Cloud Platform (GCP), WordPress, Amazon Web Services (AWS), AWS Lambda, Meteor, Mixpanel, Contentful
Industry Expertise
Web Design, Project Management
Other
Responsive UI, Lean Startups, Digital Innovation, Online Marketing, Business Development, Design Sprints, Agile Practices, Digital Strategy, Technology Trends, Apollo Server, User Authentication, User Management, Gatsby, Google Tag Manager, Headless Software, APIs, Product Development, Startups, Concepting, Prototyping, Wireframing, Mockups, Web Development, Architecture, Full-stack, Full-stack Development, Front-end, Technical Leadership, Vercel, Styled-components, Web Scraping, Prismic, Push Notifications, Progressive Web Applications (PWA), Slate.js, OpenAI, Data Aggregation, Engineering Informatics, Chatbots, Conversational UI, Conversational Interfaces, CTO, Portals, Conversational UX, ESLint, Storybook, Team Management, Analytics, Team Leadership, Software Architecture, Artificial Intelligence (AI), Natural Language Processing (NLP), CRDT, Statistics, Startup Funding, Fundraising, Chrome Extensions, Private NPM Modules, React Testing Library, User Experience (UX), Responsive Web Apps, Product Ownership, Containers, People Management, GPT, Generative Pre-trained Transformers (GPT)
Storage
MongoDB, Redis, Cloud Firestore, PostgreSQL
Education
2013 - 2015
Master's Degree in Marketing and Innovation
Steinbeis School of Management and Innovation - Berlin, Germany
2007 - 2012
Postgraduate Degree in Engineering
University of Applied Sciences Würzburg-Schweinfurt - Würzburg, Germany
Certifications
SEPTEMBER 2018 - PRESENT
Artificial Intelligence: Implications for Business Strategy
MIT Sloan School of Management