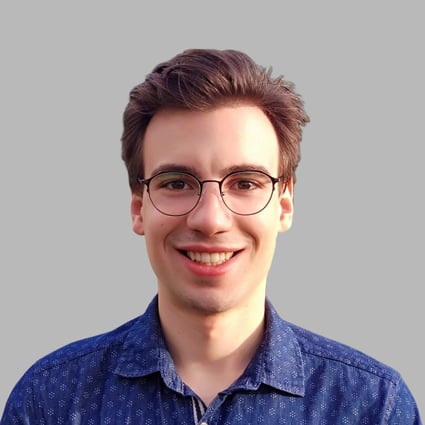 Marcos Pereira
Software Developer
Toptal Member Since
July 28, 2017
Marcos is an experienced software developer with a background in web, games, and AI. With a long track record of delivering efficient and maintainable systems for companies of all sizes, his expertise includes JavaScript and Python web stacks, extensive experience with the Unity game engine, and deep learning frameworks, such as PyTorch, TensorFlow, and JAX. He has additionally conducted deep learning research at a lab led by Rosanne Liu from Google Brain.
Preferred Environment
Windows, Visual Studio Code (VS Code), GitHub, Unity, Jupyter, Google Colaboratory (Colab), Python, PyTorch
The most amazing...
...project I've worked on is a neural network inspired by cellular automata that learns to solve reasoning tasks.
Work Experience
2020 - PRESENT
Machine Learning Engineer
Machine Learning Collective
Built a deep learning model based on neural cellular automata that learned to solve reasoning tasks.
Provided feedback to other members on research group meetings.
Participated in discussions on future research projects.
Technologies: Jupyter, Python, TensorFlow, Keras, Data Visualization, Big Data, Data Analytics, Generative Pre-trained Transformers (GPT), GPT, Natural Language Processing (NLP), Machine Learning, Artificial Intelligence (AI), GitHub, Git, Algorithms, OpenAI API, Pandas, NumPy, Computer Vision, Neo4j, Data Science, PyTorch
2021 - 2022
Data Scientist
Angle Health
Developed an ingestion pipeline for insurance provider data.
Gathered insights into provider data that informed UI decisions.
Designed a data model that unified schemas from different networks.
Technologies: Google Colaboratory (Colab), Python, Django, JavaScript, Data Visualization, Web Applications, Big Data, Full-stack, Amazon Web Services (AWS), MySQL, REST APIs, Data Analytics, SQL, APIs, REST, Machine Learning, Artificial Intelligence (AI), Back-end, CI/CD Pipelines, GitHub, Git, Algorithms, Technical Architecture, Flask, API Architecture, NumPy, FastAPI, SQLAlchemy, Alembic, System Architecture, Data Science, Object-oriented Programming (OOP), Networking
2021 - 2021
Back-end Developer
Apprentice
Developed functionality for lab procedure execution guidance.
Handled migration of the company's back end from Sails to Express.
Dockerized API, streamlining workflow and eliminating all machine-state issues.
Technologies: Node.js, MongoDB, Docker, Web Development, Express.js, TypeScript, JavaScript, Web Applications, Full-stack, Amazon Web Services (AWS), MySQL, REST APIs, SQL, APIs, REST, NoSQL, Back-end, Architecture, CI/CD Pipelines, GitHub, Git, Algorithms, Technical Architecture, API Architecture, System Architecture, Object-oriented Programming (OOP), Networking
2020 - 2021
Back-end and Data Engineer
Athlane
Built the API that acted as the company's backbone for managing streamer and sponsorship data.
Developed various tools for data gathering and analysis.
Led the back-end development team, organizing server architecture and distributing the workload.
Technologies: JavaScript, Node.js, PostgreSQL, Web Development, Express.js, TypeScript, Data Visualization, Web Applications, Big Data, Full-stack, Amazon Web Services (AWS), GraphQL, TypeScript 3, MySQL, Docker, REST APIs, Data Analytics, SQL, APIs, REST, Machine Learning, NoSQL, Firebase, Back-end, Architecture, Google BigQuery, CI/CD Pipelines, GitHub, Git, Algorithms, Technical Architecture, API Architecture, System Architecture, Data Science, Object-oriented Programming (OOP), Networking
2019 - 2020
Back-end Developer
Youblicity
Built a Node.js API to support front-end functionality such as user management, sponsor registration, and payment tracking.
Constructed various tools to handle Twitch data extraction and processing.
Used BigQuery to extract useful analytics from several terabytes of streamer data.
Architected computer vision tools to reward sponsored Twitch streams for partnership compliance.
Technologies: Node.js, BigQuery, Data Science, Web Development, Express.js, TypeScript, JavaScript, Data Visualization, Web Applications, Big Data, Amazon Web Services (AWS), GraphQL, TypeScript 3, Neo4j, MySQL, Docker, REST APIs, Amazon S3 (AWS S3), WebSockets, Amazon EC2, Data Analytics, Web Scraping, SQL, APIs, REST, Machine Learning, NoSQL, Artificial Intelligence (AI), Back-end, Architecture, Google BigQuery, CI/CD Pipelines, GitHub, Git, Algorithms, Technical Architecture, Leadership, OpenAPI, API Architecture, Computer Vision, System Architecture, Team Leadership, Object-oriented Programming (OOP), Networking
Swish Labs
Delivered a popular browser extension to thousands of active users.
Led the tech overhaul of an eastern market leader clothing label.
Built a secure and concurrent share trading market from scratch.
Developed self-documenting REST and GraphQL APIs backed by Node.js.
Technologies: MongoDB, PostgreSQL, Vue, Node.js, Web Development, JavaScript, Web Applications, Full-stack, Amazon Web Services (AWS), TypeScript 3, MySQL, Elasticsearch, Docker, REST APIs, Amazon RDS, Amazon CloudWatch, APIs, REST, Shopify API, eCommerce, NoSQL, Back-end, Architecture, CI/CD Pipelines, GitHub, Git, Algorithms, Technical Architecture, OpenAPI, API Architecture, Google Cloud, System Architecture, Team Leadership, Object-oriented Programming (OOP), Networking
Kogneta
Created internal tools for improving reach and customer acquisition.
Improved customer onboarding efficiency.
Leveraged Google Cloud solutions for data processing.
Developed efficient serverless tools for data storage and analysis.
Built additional functionalities for Google Data Studio for internal use.
Technologies: Google Cloud, Node.js, Serverless Framework, Web Development, JavaScript, Web Applications, Full-stack, Data Analytics, APIs, REST, NoSQL, Back-end, Architecture, GitHub, Git, Algorithms, Technical Architecture, Serverless Architecture, Data Science
2017 - 2018
Tooling Engineer
Kitty's Co.
Contributed to internal tools for optimizing the work of the agency's creatives.
Developed Node.js scripts that interacted with the Facebook Marketing API.
Created serverless scripts that were run on AWS Lambda.
Wrote AWS Step Functions to manage and coordinate script execution.
Technologies: AWS Step Functions, AWS Lambda, Facebook Marketing API, Node.js, Web Development, JavaScript, Web Applications, Full-stack, Amazon Web Services (AWS), Amazon DynamoDB, Amazon EC2, APIs, REST, Back-end, Architecture, Terraform, Amazon API Gateway, GitHub, Git, Algorithms, Technical Architecture, Serverless Architecture, Amazon S3 (AWS S3), System Architecture, AWS Elastic Beanstalk
2013 - 2017
Lead Developer
Okorana
Created a drag and drop interface in AngularJS that allows the placing and resizing of widgets.
Developed REST APIs used to power single-page apps using both SQL and NoSQL databases.
Set up build systems using Grunt and Gulp, which increased useful development time.
Led a team of developers in organizing contributions and communication between members.
Hired new team members to assist with the front-end design of web apps.
Created a browser extension for a customizable new tab page.
Technologies: MongoDB, AngularJS, Node.js, JavaScript, Web Development, Web Applications, Full-stack, Amazon Web Services (AWS), TypeScript 3, MySQL, Redis, REST APIs, Amazon S3 (AWS S3), WebSockets, Redis Cache, Amazon EC2, Amazon CloudFront CDN, WebRTC, HTML, CSS, Angular, Vue, APIs, REST, NoSQL, Back-end, Architecture, CI/CD Pipelines, Go, GitHub, Git, Algorithms, Technical Architecture, Leadership, API Architecture, System Architecture, Team Leadership, Meteor, AWS Elastic Beanstalk, Object-oriented Programming (OOP), Networking
Experience
Backpropagation from Scratch
https://marcospereira.me/2022/08/18/backpropagation-from-scratch/
A deep look into the foundations of modern AI, starting by building up the mathematical intuition for backpropagation, then using this knowledge to implement a convolutional neural network.

The network is then trained on MNIST, achieving 85% accuracy.
Neural Cellular Automata for ARC
https://marcospereira.me/2020/11/01/ml-collective-arc/
A deep learning research project where a model was trained to solve tasks from François Chollet's Abstraction and Reasoning Corpus. The model was based on and inspired by previous work on neural cellular automata.
Unity 3D Game
A game built with the Unity game engine, featuring competitive multiplayer in a procedurally generated world.

Progress updates on Twitter: https://twitter.com/voxelbased.

I am fascinated by how much is involved in making a good game. There are endless things to consider. Some things I have worked on so far and have written about are a procedural generation (https://marcospereira.me/2022/05/10/a-simple-hash-for-perlin-noise/) and multithreading (https://marcospereira.me/2022/05/06/safe-async-tasks-in-unity/).
CharityTab
CharityTab was a fully customizable new tab page, available as a web app and browser extension. It allowed users to donate to a charity of choice by viewing ads and shopping through sponsored bookmarks.
Twitter Infinite Scroll Disabler
https://github.com/marcospgp/twitter-infinite-scroll-disabler
A productivity tool that disabled Twitter's infinite scrolling feed and replaced it with a "Show More" button. This project was deprecated due to the high maintenance required to keep up with regular updates to Twitter's web user interface.
Watch Together
https://github.com/marcospgp/watch-together
A Chrome extension that allows multiple users to synchronize their streams on a popular streaming service using an intermediary Node.js server.

When users join a room by name, their stream will automatically be synchronized with others in the same room. If a user pauses the player, everyone else's stream is also paused.
Flappy Goat
https://github.com/marcospgp/flappygoat
A twist on the mobile hit game where the player must avoid crashing into obstacles in an infinitely scrolling world. Built from scratch with a custom fixed-timestep game engine based on HTML Canvas technology.
Twitch Chat Bot Modules
https://github.com/marcospgp/koalabot-custom-modules
A set of custom modules written for a popular Twitch bot that allows users to duel and gamble the points they earn while watching their favorite streamers. They were developed in JavaScript and deployed using Heroku.
Link Shortener and Web Status Checker
https://github.com/marcospgp/infinifty-web-apps
A link shortener and web status checker built in PHP. The link shortener was built to encompass two domains: the host domain that allows the user to minify links and a short domain that redirects the shortened addresses to the correct endpoint.
Haskell Sokoban
https://github.com/marcospgp/haskell-sokoban
A 2D top-down puzzle game where the player pushes crates around in a grid with the objective of filling all the predefined storage locations. This project is written in Haskell and uses the Gloss vector graphics library.
Skills
Languages
TypeScript, SQL, C#, GraphQL, C, Java, Python, JavaScript, HTML, CSS, HTML5, TypeScript 3, Haskell, PHP, C#.NET, Go
Frameworks
Unity3D, Unity, AngularJS, Express.js, .NET, .NET Core, Django, Flask, Alembic, Angular
Libraries/APIs
NumPy, Node.js, REST APIs, PyTorch, OpenAPI, Keras, TensorFlow, WebRTC, Vue, Shopify API, Pandas, SQLAlchemy
Tools
GitHub, BigQuery, Git, Amazon CloudWatch, Amazon CloudFront CDN, Terraform, Jupyter
Paradigms
Data Science, REST, Serverless Architecture, API Architecture, Object-oriented Programming (OOP)
Platforms
Docker, AWS Lambda, Visual Studio Code (VS Code), Amazon Web Services (AWS), Amazon EC2, Firebase, Meteor, AWS Elastic Beanstalk
Storage
MongoDB, MySQL, PostgreSQL, Relational Databases, Amazon DynamoDB, Neo4j, Amazon S3 (AWS S3), NoSQL, Google Cloud, Redis, Redis Cache, Elasticsearch
Other
Chrome Extensions, Machine Learning, Game Development, Algorithms, Web Development, APIs, API Design, Games, 3D Games, Game AI, Unity3D AI, Data Visualization, Web Applications, Big Data, Full-stack, Software Engineering, WebSockets, Data Analytics, Web Scraping, Natural Language Processing (NLP), Artificial Intelligence (AI), Back-end, Architecture, Google BigQuery, CI/CD Pipelines, Amazon API Gateway, Technical Architecture, Leadership, OpenAI API, Computer Vision, System Architecture, Team Leadership, Networking, GPT, Generative Pre-trained Transformers (GPT), Deep Learning, Amazon RDS, eCommerce, FastAPI, Google Colaboratory (Colab)
Education
2015 - 2018
Bachelor's Degree in Software Engineering
University of Minho - Braga, Portugal