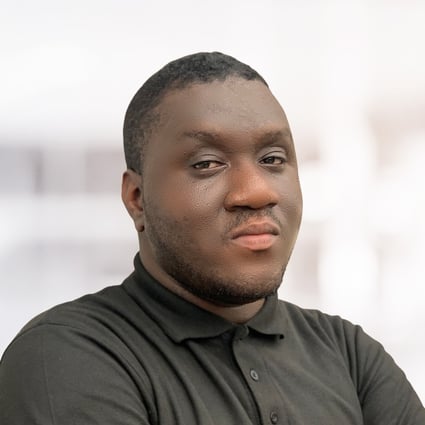 Henry Eguakun
UI Designer
Toptal Member Since
December 2, 2020
Henry is a creative designer with expertise in UI design, visual design, prototyping, product design, and branding. He has applied his visual design acumen across diverse industries and products, including fintech, blockchain, cryptocurrency, artificial intelligence, machine learning, telecommunications, and eCommerce. Henry is passionate about creating digital solutions that improve the quality of lives.
Work Experience
2022 - PRESENT
Senior Product Designer
Remotebase
Led the redesign of the main website remotebase.com.
Led the design team in the design of a product called Talently, which has been launched.
Designed many marketing landing pages for marketing purposes.
Worked with clients like Agentnoon, Salt Ventures, and Hire Pluto, scaling their products.
Technologies: Figma, Dashboard Design, Web App Design
2019 - PRESENT
UI Designer
Leda Health
Designed an app that helps to transform existing systems related to sexual assault.
Created a design system indicating colors, typography, components, and other design elements.
Collaborated with the developers for a development handoff and oversaw the product build from start to finish.
Designed a website with Figma and implemented it with Webflow.
Technologies: Webflow, Figma, Adobe Experience Design (XD)
2019 - 2022
UX/UI Designer
Second
Collaborated with business analysts, developers, and product owners to improve the UX of a client's digital roofer platform.
Created an elaborate and effective style guide using Sketch and InVision to present it to the client.
Redesigned the onboarding process of a therapist platform.
Created icons, illustrations, error pages, and email templates for numerous clients.
Assisted in designing a product called Famelab, which was later launched and is now one of the best LinkedIn networking tools.
Technologies: InVision, Figma, Adobe Experience Design (XD), Web App Design
2021 - 2021
Senior Product Designer
Modus Create
Collaborated with other designers to solve internal problems.
Worked with product managers, project managers, and developers in building amazing products for clients.
Created designs and animation for the company's portfolio channel on dribbble.
Led the visual design team in creating a new system for onboarding new employees.
Technologies: Figma, Miro
2020 - 2020
Product Designer
TechGRATA Limited
Redesigned the company's website to have a better look and feel and also clearly define the company's purpose.
Designed a Sass application, aggregating end-to-end haulage operations to help cargo owners, truck owners, drivers, and cargo recipients achieve an efficient supply chain framework.
Designed an app that helps users make payments easily using a QR code.
Created user stories, user journeys, and wireframes to help define the UX of each company's products.
Technologies: Figma, Adobe Experience Design (XD)
CredPal
Strategized and planned design concepts for major products.
Designed a product (Cred Finance or Finance Center) that helps finance users with cash or asset-based loans based on their credit limits.
Designed the Credbuilder landing page and web application, which helps users build their credit scores to qualify for financial benefits such as home mortgages, insurance, and car financing.
Provided creatives and videos for social media posts and advertising purposes.
Technologies: Adobe Illustrator, Adobe Experience Design (XD), Figma
2017 - 2019
UI/UX Designer and Web Developer
Herlabytes
Designed a school management system used by schools in remote areas to manage school activities easily.
Revamped the company's website, giving it a more intuitive and standard look and feel.
Strategized and planned design concepts and provided mockup designs for web and mobile applications.
Provided a mockup design for a mobile application for Flexenclosure, a telecommunications company.
Technologies: jQuery, CSS3, HTML, Figma, Adobe Experience Design (XD)