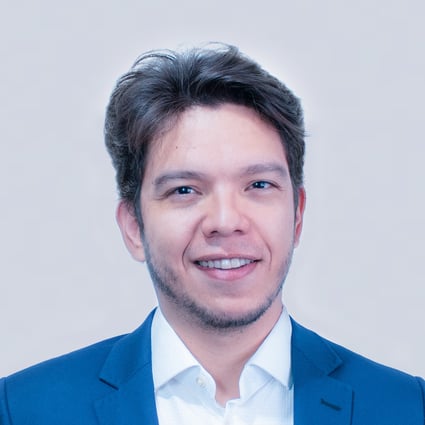 Tim Balabuch
Designer
Location
Curitiba - State of Paraná, Brazil
Toptal Member Since
October 6, 2016
With more than seven years of experience in UI/UX design, Tim's been working with large teams and rising startups—contributing to the entire process and development of cross-device products. He has experience in several areas such as education, finance, fashion, entertainment, games, and healthcare. Efficiency, organization, and creativity make up the core of his work process.
Work Experience
2017 - PRESENT
Freelance UX/UI Designer
Digiance (via Toptal)
Improved and installed new features in a social network aimed at real estate agents.
Designed a construction management app for iOS and Android.
Designed the app for manage prepaid card funds.
Implemented improvements on a website of professional genealogists and family history experts.
Created debit card designs that were in line with the current visual identities of the companies.
Technologies: Webflow, InVision, User Interface (UI), Adobe Photoshop, Adobe Illustrator, Sketch
Self-employed
Designed the user interface and user experience of products to companies that wanted to improve the visual and usability for their users.
Researched, wireframed, sketched, and prototyped mobile apps and websites.
Crafted the branding and the visual identity for a wide range of businesses.
Provided a consultancy for some companies—teaching how to improve their online presence through design and SEO.
Technologies: Apple Keynote, Adobe InDesign, Adobe Illustrator, Adobe Photoshop, Sketch
2017 - 2017
Freelance UX/UI Designer
Vertaeon (via Toptal)
Redesigned the charts of an analytics product based on the company's current visual identity.
Designed the navigation structure and menus of the product made in Bootstrap.
Created a small commercial video.
Redesigned the commercial site on Wix, a platform chosen by the client.
Designed elaborate, illustrative icons for the products.
Technologies: User Interface (UI), CSS, HTML, Adobe Photoshop, Sketch
2014 - 2017
UX/UI Designer
Volatile
Worked with the company's flagship product: Pega Plantão (medical management software used in several large hospitals in Brazil).
Redesigned the iOS and Android apps and contributed with new features for the web platform.
Led the company's visual presence in events such as Fair + Forum Hospitalar (the largest health event in the Americas).
Made instructional videos and animations for product presentation.
Helped the product to grow its internet presence through social media, marketing campaigns, and SEO optimization.
Technologies: Teamwork, Adobe Premiere Pro, Adobe After Effects, Adobe Illustrator, Adobe Photoshop, InVision, Sketch
2013 - 2016
Lead Designer | Co-founder
Just Doctor
Led the UX/UI design from the sketch to the final product.
Researched, mentored by doctors and dentists, several areas of medicine and dentistry to create features for the product.
Represented the design team in meetings with investors and advisors.
Designed a cross-device product focused on the end user.
Mentored new team members.
Technologies: User Interface (UI), Basecamp, Adobe Illustrator, Adobe Photoshop, InVision, Sketch
Just Works
Led the design team by managing, designating, and mentoring.
Researched, wireframed, sketched, and prototyped user experiences for digital products; hand-in-hand with the clients.
Worked with highly qualified professionals developing and evolving UX skills.
Collaborated with a wide variety of digital products which provided a facility for understanding different types of clients.
Communicated clients personally and online—helping them find effective and creative solutions to their problems.
Technologies: User Interface (UI), Basecamp, Adobe Illustrator, Adobe Photoshop, Sketch
2011 - 2012
Designer | Social Media Analyst
80/20 Digital
Created creative solutions to attract new consumers to customers.
Helped companies find their potential in digital marketing and social media.
Contributed to the creation of several advertising campaigns.
Created online and printed advertising pieces.
Technologies: Trello, Adobe Dreamweaver, Adobe Illustrator, Adobe Photoshop
Education
2014 - 2015
Specialization in Communication in Digital Media
Universidade Estácio de Sá - Campo Grande, Brazil
2009 - 2011
Bachelor's Degree in Design
Universidade Católica Dom Bosco (UCDB) - Campo Grande, Brazil
Certifications
APRIL 2020 - PRESENT
Certificate in User Experience Design
Accenture
MARCH 2020 - PRESENT
PH555x: Improving Global Health: Focusing on Quality and Safety
HarvardX