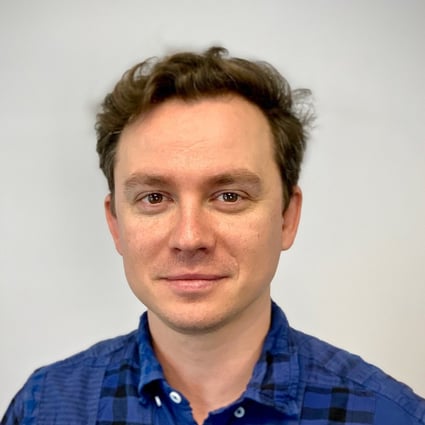 Stas Kulesh
Designer
Toptal Member Since
August 12, 2016
Stas is a full-stack designer with 15+ years of experience and 400+ projects designed and coded. He has led many projects for companies like Foursquare, Facebook, LEGO, Discovery Channel, Nickelodeon, TLC, and Tupperware. Working with startups is particularly thrilling for him. Stas designed and coded the initial application for the startup Zoomdata—allowing them to raise $1.1 million in 2012.
Work Experience
2009 - PRESENT
Creative Director
Sliday
Designed and developed a multitude of products for local and international clients.
Technologies: JavaScript, CSS, HTML, Sketch, Visual Design, Marketing Materials
2008 - 2009
Lead Web Designer | Developer
Rad3
Participated in several projects as a lead web designer and developer (JavaScript, PHP, and XHTML/CSS).
Created all sorts of identity works.
Developed Flash-based websites.
Wrote lots of jQuery scripts,.
Technologies: CSS, XHTML, PHP, JavaScript, Animated GIFs, Adobe Flash, Adobe Illustrator, Adobe Photoshop, Adobe Fireworks, Adobe Creative Suite, Graphic Design, Marketing Materials
2006 - 2008
Web Designer | Developer
Netactive
Worked in several projects as a lead graphic designer and programmer (PHP and XHTML/CSS.).
Created e-mail templates, identity work, and a portfolio for Netactive itself.
Did content management.
Built templates for different types of CMS.
Developed Flash-based sites.
Technologies: CSS, XHTML, PHP, Animated GIFs, Xara Xtreme, Flash, Adobe InDesign, Adobe Illustrator, Adobe ImageReady, Adobe Photoshop, Adobe Creative Suite, Marketing Materials
2005 - 2006
Web Designer | Project Manager
Novosoft
Developed the identity of the company Novosoft LLC (www.novosoft.net).
Designed the product web pages for Handy Password (www.handy-password.com), Office Backup (www.office-backup.net), and Handy Backup (www.handy-backup.net).
Designed the graphical user interface for Handy Password's software.
Created icons for Handy Backup's software and Office Backup's software.
Designed a software web-catalog for Softempire (www.softempire.com).
Technologies: Microsoft PowerPoint, Animated GIFs, Xara Xtreme, Flash, Adobe Creative Suite, SharePoint, Marketing Materials
2002 - 2005
Lead Graphic Designer | Web Designer | Game Designer | Developer | Project Manager
Exclusive Games
Collaborated with a team of developers to create shareware games.
Created 2D graphics, 3D graphics, animation using Alias Maya 6.0, and implemented the texturing and optimization of resources.
Worked on game-design, 3D-modelling, 2D-graphics, animation, and all promotional materials (banners, web-site, CD-cover).
Created three games during 2003 including Tank-O-Box (www.tank-o-box.com), Electronica (www.nice-games.net/elec.html), and Beat'N'Roll (demo-version).
Redesigned Pickman Saves the Kingdom game (www.nice-games.net/pick.html).
Worked on the game Tank-O-Box 1.0 which became one of 30 semifinalists in the Rendering section of Microsoft Imagine Cup 2004 contest—was later released by Buka Publishing company and later won The Best Casual Game Award 2006 in Russia.
Technologies: Deep Exploration, Deep Paint 3D, Maya, Flash, Animated GIFs, Adobe Illustrator, ImageReady, Adobe Photoshop, Adobe Creative Suite
Education
1999 - 2004
Bachelor's Degree in Computer Science and Nuclear Physics
Novosibirsk State University - Novosibirsk, Russia
Certifications
NOVEMBER 2018 - PRESENT
Startup School Advisor Track
Y Combinator