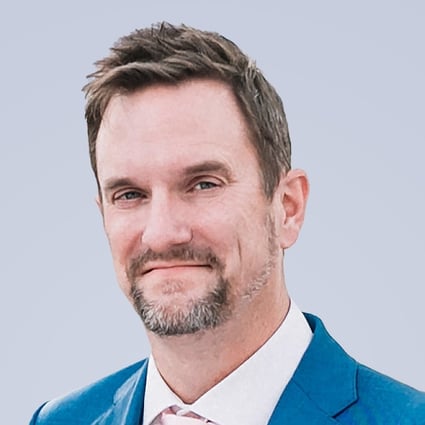 Mike Slone
Designer
Location
Ladera Ranch, United States
Toptal Member Since
March 16, 2017
Mike is a highly experienced and successful product, UX, UI, visual, and branding designer with many years of experience creating large and small-scale designs. He has worked for global clients in many industries, including ExxonMobil, Reebok, Taco Bell, Nike, and many others. Mike has also provided his design and leadership experience to startups in healthcare, higher education, and SaaS companies.
Work Experience
2016 - PRESENT
Director of UX/UI | Creative Director
Toptal Clients
Directed a team of three to complete online applications for a Fortune 100 company, one of which won the global Chairman's Award for Innovation.
Helped Pampered Chef, a multinational multi-level marketing company that offers a line of kitchen tools, food products, and cookbooks for preparing food in the home, with the next generation of their online presence.
Designed a startup chat app in the insurance industry.
Designed an app for Deloitte to help diabetes patients remember to take their meds.
Worked on an app for Webcor Builders, a commercial construction contractor with headquarters in San Francisco.
Designed a pharmaceutical web app and dashboard for a large-scale pharma organization to track all drug programs globally and collect evidence identifying the competitive landscape.
Created a web app and dashboard for a healthcare startup that produces equipment for UV cleaning medical environments from viral infections.
Ideated and designed a mobile app for Louisville Gas & Electric Company and Kentucky Utilities Company, which has received over 2000 five-star reviews.
Directed a team of three and provided UX research for Exelon utilities to help identify ways to help lower-income customers overcome current challenges.
Technologies: Adobe Creative Suite, Figma, InVision, Sketch, Design Systems, Product Design, UI Design, UX Design, Web App UX, Mobile UX, Prototyping, Dashboards, Dashboard Design, Service Design, Data Visualization, Landing Page Design, Landing Pages, Marketing Design, User Interface (UI), B2B, B2C, Marketing, SaaS, SaaS Design, Enterprise, Enterprise SaaS, Enterprise Design, App UI, User Experience (UX), Web UX, App UX, UX Tools, UX Research, Card Sorting, Cluster Analysis, Contextual Inquiry, Surveys, Validated User Research, User Research, Gamification, Wireframing, Design, AI Design, Jira, Product Discovery, Web UI, UX Review, Lean UX, Quantitative Research, Qualitative Research
2014 - 2016
Director of UX and Visual Design
Mobiquity
Directed agile-based UX and visual design teams made up of sixteen people in four locations. The teams created outstanding mobile experiences that evolved businesses and changed behaviors.
Worked for clients, including Philips Healthcare, Insulet, Emerson Ecologics, Panera, ExxonMobil, Reebok, CVS, Yankee Candle, iRobot, and many others.
Contributed to the mobile app creation and design for clients, including Insulet, Emerson Ecologics, Panera, ExxonMobil, Reebok, iRobot, and many others.
Technologies: Sketch, InVision, Adobe Creative Suite, Product Design, Design, Mobile UI, Mobile, Mobile UX, Mobile App UI, Mobile Web, Mobile Apps
2013 - 2014
Senior UX/Design Director
MedTouch
Led UX and design teams made up of twelve people in five locations.
Created smart, iterative, and measured multichannel healthcare experiences for major clients.
Provided design services to clients, including major health care and hospital networks in North America.
Technologies: Adobe Creative Suite, Sketch, InVision
2012 - 2013
Design Director
Eliza Corporation (now HMS Eliza)
Directed the experience design, design production, and audio production teams consisting of sixteen people.
Created healthcare outreaches that engage and empower people to improve their health habits and quality of life.
Worked for clients who were major healthcare providers and hospital networks in North America.
Technologies: Adobe Creative Suite, Sketch, InVision
2011 - 2012
Chief Brand Officer
The Fullbridge Program
Led the team brand and design efforts in North America, the Middle East, and Asia. I was in charge of brand image, experience, promise, and propagating it throughout all aspects of the company.
Oversaw the design, advertising, and public relations and shared responsibility for marketing strategies.
Crafted the brand experience from the very beginning to a fully built style guide.
Acted as the steward of the brand, ensuring nothing damages it.
Aligned initiatives and strategies throughout the organization with the overall brand.
Took strategic risks with the brand to create opportunities that drove the business forward.
Technologies: Adobe Creative Suite
2007 - 2011
Interactive Creative Director
Simple Labs
Delivered web, multimedia solutions for clients such as Nike, NBA teams (Lakers, Wizards, Suns, and Hawks), DIRECTV, Experian, Toshiba, Canon, and Capital One by providing leadership to design and production teams across North American and Europe.
Enabled Nike to achieve greater sales via their Nike Team Sports site through stronger concept and by revamping and reprogramming all Flash-based online uniform builders, which minimized download time and file size in half.
Empowered Uncle Ben's to claim a much larger market share and achieve 300% sales growth in the first year by creating a simplified and unified print, web, and packaging campaign for BBDO, an advertising agency in Warsaw.
Positioned TBWA/Warsaw favorably to renew their contract with a client (Nivea); led photoshoots for Nivea's facial products and final placement into print and outdoor advertising working together with TBWA/Warsaw.
Technologies: Adobe Director
2006 - 2007
Interactive Creative Director
Kelley Blue Book
Drove all aspects of brand strategy, standards, and evolution.
Oversaw the creative content and advertising creative on Kbb.com.
Armed the team with knowledge of advanced interactive design methodology through training and created a new homepage.
Launched a new pricing comparison tool for fair market value.
Enhanced the photo libraries and introduced the first-ever video reviews, 360° views, and search.
Technologies: Adobe Creative Suite
2005 - 2006
Senior Art Director
Capital One Auto Finance
Provided leadership to a large team with oversight of all online advertising, anything brand-related, and direct marketing materials.
Championed best practices as a leader of the design team.
Streamlined the processes through automation, centralized libraries, and defined naming, project tracking, timekeeping, and creative process conventions.
Managed the partner pitch materials and directed the team in these efforts.
Trimmed the time needed to update 400 online advertisements from two days to two hours by automating the entire loan rate change process.
Established and managed a centralized creative portal to house all processes and best practices documents in a single, easy-to-access library.
Steered all the launch activity in support of Drive One, a new auto buying business—including online presence, logo and branding, product naming, collateral, trade show, B2B, and numerous marketing, advertising, and sales materials.
Technologies: Adobe Creative Suite
Education
1990 - 1990
Certificate in Art History, Church History
Università per Stranieri di Perugia - Perugia, Italy
1987 - 1990
Bachelor of Science Degree in Graphic Design
University of Louisville - Louisville, KY, USA