San Francisco, CA, May 17, 2016 — On October 21, Toptal launched Toptal STEM Scholarships for Women, a program designed to empower and support the next generation of female computer scientists, software engineers, and developers through a combination of financial support and mentorship.
Today, we are thrilled to announce the fifth winner of the scholarship, Rachell Calhoun, an English teacher living in Seoul, South Korea, who aspires to switch careers and land a position as a full stack developer by the end of this year. Rachell was born and raised in Kalamazoo, Michigan, and moved to Korea to teach eight years ago, joining a Python study group in 2014 and beginning her studies in Computer Science. Last fall, she became the organizer of Django Girls Seoul.
Rachell is a self-described "EFL teacher by day, web developer by night," but her tremendous appetite for learning new skills and her unrivaled work ethic leave no doubt that Rachell will become an accomplished senior developer.
"Rachell won us over with her energy and determination," said Toptal Director of Engineering Anna-Chiara Bellini, who leads the scholarship's committee of judges. "The judging panel was immediately impressed by her drive and motivation, which is apparent in every challenge she has undertaken to-date, especially in how quickly she grew Django Girls Seoul. Rachell's intense drive to become a full stack developer, international outlook, and commitment to community-building make her a great fit for our culture."
As a scholarship winner, Rachell will receive $5,000 to use to further her educational and professional development goals, as well as a year of weekly one-on-one dedicated mentorship with a senior software engineer from the Toptal network.
After 8 years working as an English teacher in South Korea, Rachell is moving back to Michigan, where she'll continue to develop her coding skills. Rachell is currently working through Udacity's Front-End Nanodegree Program and undertaking web development projects with Django and Python. She plans to move on to Udacity's full stack program and the senior web development track when she finishes the front-end courses.
She plans on using the scholarship to enroll in more online courses, and hopes to rely on her mentor for support in the absence of her community of developers in South Korea.
"We're excited that the mentorship aspect of the scholarship will suit Rachell well during this transition," said Bellini. "It will provide her with the direction she needs to focus and exploit her passion for programming."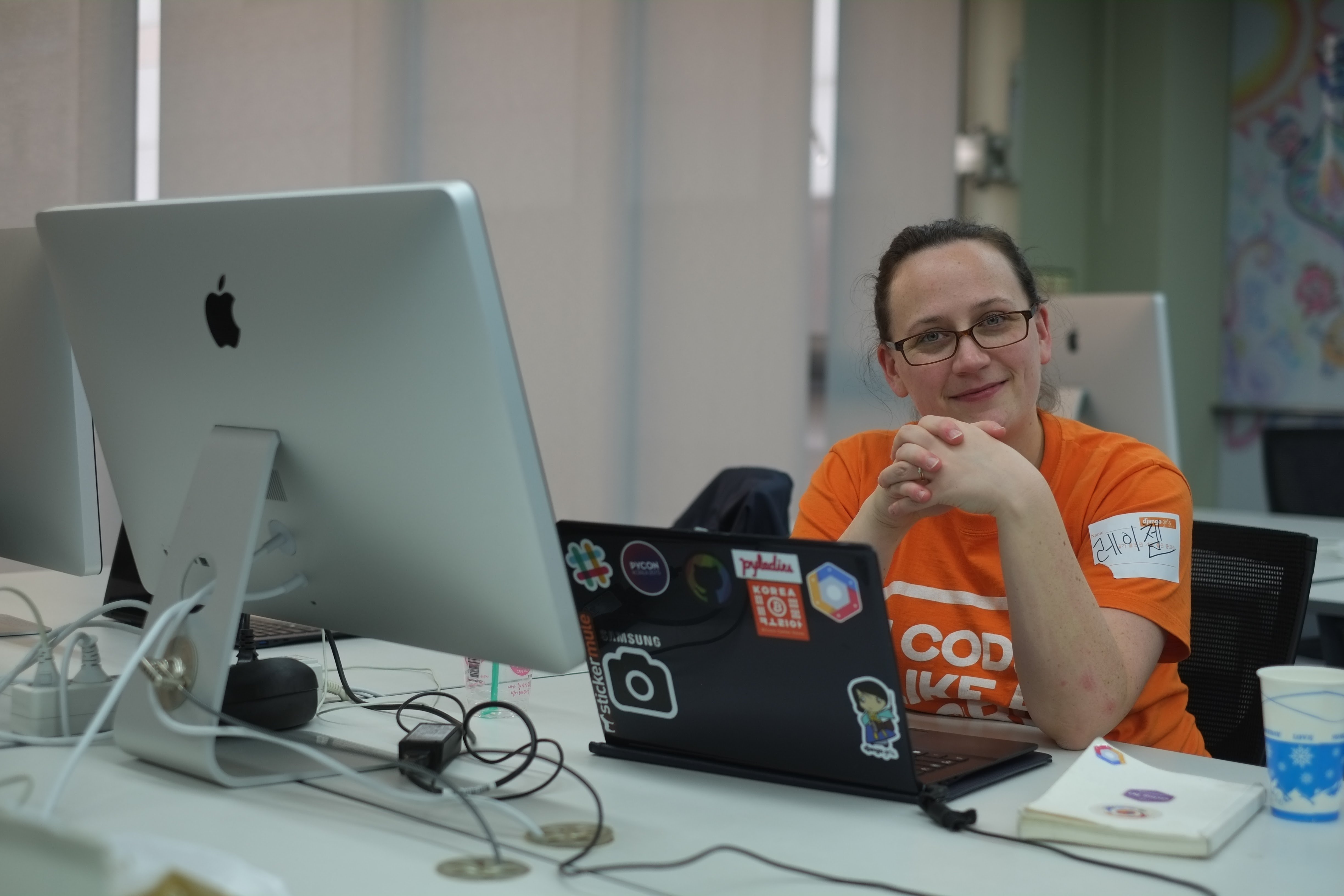 Becoming a Django Girls Organizer
In October 2015, Rachell and her weekly Python study group colleagues learned about Django Girls, a non-profit that brings together aspiring female engineers from around the world for coding workshops.
A firm believer that "learning as part of a community is better than learning alone," Rachell decided to help bring the first Django Girls workshop to Seoul, so that more women and girls would develop an interest in programming and find the necessary support system to begin their own projects.
Rachell and her team created a workshop that focused on building an inclusive environment for beginners, and worked tirelessly to promote the event to gain sponsorships and build interest in the local community.
"I wanted to show that coding can be cool and fun, that it's not something you have to do alone," said Rachell. "I also wanted to make it clear that we welcomed any question as a good question."
Her team did such a good job garnering interest that they received over 400 applications from 11 different countries, and ultimately brought together nearly 70 participants and 30 coaches.
Determined to continue building enthusiasm, Rachell helped organize a follow-up event just four weeks later called Django Girls X, which let participants continue their studies with extended material and a two-month long project-based coding camp.
In a matter of months, the Django Girls Seoul community has grown like wildfire, transitioning from a one-off workshop into a series of coding camps, study meetups, and social gatherings designed to help inspire and support women who aspire to become engineers.
"I think one of the reasons there's so much enthusiasm in our community is that the other participants can look at my story, and they know I'm also a relative beginner," said Rachell. "I started from scratch and never thought programming was for me. Then I tried it, and I just keep trying new things."
Through the Django Girls community, Rachell aims to give other women the same "chance at employment, upward mobility, equality, and the future" that she seeks for herself.
It's only been two years since Rachell first started learning how to code, and she is now already contributing to GitHub with her first open source project, Code For Everyone, and building both back-end and front-end projects. She's also been instrumental in building a major support network for other aspiring female engineers in Seoul.
When asked about the future, she said, "I can't see that now. It's at the top of the staircase, and right now I'm on just the first few steps. I plan to keep learning, to keep changing. I hope to use my skills to help people without a voice, to give them a platform they didn't have before."
About Rachell
Rachell has always sought out challenges, especially when it comes to learning new languages. As a student, she lived in Uruguay (to polish her Spanish skills), Quebec City (to complement her French studies), and Alexandria, Egypt (to work on her Arabic). She didn't know much Korean before moving to South Korea, but began studying Taekwondo at age 10, and had picked up a few simple phrases there and from a friend's Korean mother. She decided to dive right in, booking a ticket, and accepting a one-year teaching position. Now, Rachell is ready for a new challenge, this time diving headfirst into software engineering, and bringing an entire community with her.
Please join us in congratulating software developer Rachell Calhoun on becoming the fifth winner of the Toptal STEM Scholarships for Women program!
About Toptal STEM Scholarships for Women
Toptal STEM Scholarships for women are a series of 12 scholarships for women that are awarded monthly over a year, with Rachell being the fifth scholarship winner. Women from across the world of any education level are eligible to apply to win $5,000 and a year of weekly one-on-one technical training and mentorship from a Toptal senior technologist to help them pursue their goals as future professional software engineers.
The prior scholarship winners are Rojina Bajracharya from Nepal, Ana Sustic from Slovenia, Gabriela Mancini from Argentina, and Tondi Butler from America.
To apply to Toptal Scholarships for Female Developers and for more information about the program, visit https://www.toptal.com/scholarships.
About Toptal
Founded in 2010, Toptal is one the fastest-growing and most innovative companies to emerge from Silicon Valley. With backing from Andreessen Horowitz, Silicon Valley's famed venture capital firm, Adam D'Angelo, founder of Quora, Ryan Rockefeller, and other investors, Toptal today connects thousands of elite freelance software engineers and designers from around the world to over 2,000 blue chips such as J.P. Morgan and Pfizer, tech companies such as Airbnb and Zendesk, and numerous startups to provide world-class solutions that meet the most complex and challenging requirements. Toptal's rapid growth is testimony to exploding client demand and the unmatched quality and reliability of the company's services.
Media Inquiries
Joellen Ferrer
Toptal, LLC
+1 (415) 308-8209
joellen@toptal.com