Why Health Insurers Need to Build Trust to Integrate Data-Driven IoT Solutions
Why having the right team and technology is critical for health insurance companies pivoting to more customer-centric models
Why having the right team and technology is critical for health insurance companies pivoting to more customer-centric models
Executive Summary
As other industries evolve, the health insurance industry explores change as well
It is generally not uncommon for industries to pivot their way of thinking or, in some cases, to completely overhaul how they define their offerings. The impetus for these changes varies; it can be a response to a changing competitive landscape, or perhaps a necessary adaptation to new and disruptive technological advancements.
The vast health insurance complex, on the other hand, has followed the same basic business model for decades, that of providing insurance to consumers through their workplace. If people left their place of employment, they would lose their insurance and either go without or be forced to navigate a byzantine system that weeds out people based on an income threshold, pre-existing conditions, or other factors. The passage of the Affordable Care Act (ACA) in 2010 alleviated these issues to a certain extent, but about half of US citizens still have health insurance through their employer, and thus feel their options are limited.
Yet now, with the advent of the Internet of Things (IoT) in healthcare devices and other adaptations such as telehealth options, even the health insurance industry is pursuing change by taking a more comprehensive look at using digital transformation to become more integrated into people's lives. This paper investigates the changes some of the largest health insurance companies in the US are making or planning for, and the obstacles they need to overcome to deal with competitors and get consumers to buy in. Health insurance firms rebranding themselves as healthcare companies may seem to be a logical leap, but it faces stiff competition from many new entrants that include some of the biggest names in retail.

In addition, encouraging consumers to embrace technology-embedded devices and solutions reflects an end goal commensurate with increased efficiency and better health outcomes. But this is likely to face an uphill adoption battle given that only 43% of consumers—down from 47% in 2020—trust their health insurance companies, according to Edelman Trust Barometer annual surveys. The skepticism with which this audience will view efforts to allow insurers increased access to medical information will be a significant challenge. Still, all is not bleak: Companies that take the right approach have substantial opportunities to earn consumer buy-in.
Even as consumers are hesitant about entrusting their personal data to health insurance companies, they are even more wary about doing so with technology companies and retailers. In the 2019 Health Care Consumer Trust Survey by Bright.md, only about 17% of respondents said they trusted retailers with personal healthcare information. Given that data security is a concern across the healthcare space, any company interested in expanding its reach must have a strategic plan to put the necessary technologies into place, with a staffing initiative to match. Accenture's global Insurance Consumer Study released in 2021 notes this technology hesitancy among consumers. Only 12% of the survey respondents stated their comfort with filing an insurance claim through an automated service over the phone, web, or email, and just 7% with a chatbot.
Of course, getting to the point of having the technology and processes needed to implement bold new initiatives is far from easy. Specialized teams that have the knowledge and expertise to tackle healthcare initiatives and do them well are unlikely to be easily or quickly accessible through the general talent marketplace, and equally unlikely to be part of a company's existing IT team. According to Avanade's Future Ready. Now. Executive Report released in 2020, 46% of executives said their most significant challenge was hiring and training people in the skills needed for their company's digital transformation efforts. A 2017 study by Capgemini, The Digital Talent Gap, noted that more than half of companies surveyed said the tech talent gap was hampering their digital initiatives and that they've lost competitive advantage because of a shortage of tech talent. The problem has only worsened with the COVID-19 pandemic, as every company has had to adapt its technology to meet consumer needs. CompTIA's Workforce and Learning Trends 2021 report showed that 40% of companies hired tech staff during the pandemic, with 66% planning to add more in 2021.
Though COVID-19 was the impetus that has changed workplace norms, these new norms are quickly becoming embedded in the employment landscape, and in many cases workers no longer view them as negotiable. An increase in worker autonomy and agency means that many companies will need to continue investing in modernized ways of working to stay competitive and survive, using solutions like hybrid work as well as telehealth and other digital adoptions. Companies are also having to rethink their workforce and work environment. Flexible workspaces, adopting a "work from home" mindset, and using consultants to a greater degree should all be on the table as part of an arsenal that capitalizes on an increasingly liquid workforce to move initiatives forward. Another growing trend is the use of tech freelancers to augment the workforce; they are well-positioned to provide the newest methodologies and skills required to implement cutting-edge initiatives, particularly relative to permanent employees. A 2020 study by Edelman showed that 59% of freelancers have participated in skills training in the last six months compared to 36% of non-freelancers.
A deep dive into technology, consumer trust, and the future of healthcare.
Using freelance talent in a targeted way can provide companies with the skills they need. This would enable them to implement thoughtful and deliberate steps to build a foundation of trust that would allow responsibility and involvement to shift from insurer to customer.
Historical Context
Historical context within which health insurance currently operates
Healthcare in the US has been funneled primarily through insurance companies since the 1930s, with insurance offered by employers as a benefit to counteract wage controls imposed by the federal government. The US health insurance system was essentially unchanged until the advent of the Affordable Care Act (ACA). The federal statute was signed into law in 2010, and its major provisions were implemented in 2014. The ACA represents the most significant regulatory overhaul of the healthcare system in the US since Medicare and Medicaid were enacted, offering consumers an option outside the traditional employer-provided health insurance or open market insurance.
Although the same companies providing private health insurance administered plans through the ACA, the new federal regulations applied broadly to health insurance plans with new dictates, such as standardizing plan costs across demographic groups and disallowing rejection based on pre-existing conditions. The ACA gave consumers more options, and has undoubtedly redistributed power from health insurance companies alone to other players. The increasing acceptance of the ACA also suggests that even consumers who were initially skeptical have seen the benefits of a government-founded insurance option: A Gallup poll showed that support for the ACA reached a record high of 55% by the end of 2020.
Competitive Landscape
The competitive landscape is evolving rapidly
While legacy health insurance companies remain the dominant player in the healthcare arena, the competitive landscape is rapidly changing due to new entrants disrupting the status quo. These competitors range from drugstores and big box retailers to business giants like Amazon and Apple. Below is a view into the different types of competition among healthcare providers and insurers.
Legacy health insurance companies
According to the National Association of Insurance Commissioners, in 2019 there were more than 900 health insurance companies in the US. However, the market is fairly concentrated, with the five largest insurance companies representing 45% of the total US market share. The health insurance industry has experienced substantial growth in the last five years, benefiting from both an aging population that requires more health services as well as access to the previously uninsured through the ACA. Overall, health insurers fared well in 2020, as the pandemic curtailed medical claims related to expensive elective surgeries and other procedures, while sharply reducing doctor visits. At the same time, high costs for COVID-19 treatment have been largely subsidized by the federal government, which allocated $175 billion in funds for doctors and hospitals in 2020.
The following is a list of the largest insurance companies ranked by revenue:

Of course, the pandemic has also upended healthcare and the health insurance industry with a significant number of unknowns around the future; this includes how many might experience long-term effects from COVID-19. In addition, a lessening of pandemic restrictions will prompt many people to return to the doctor for treatments they had postponed, which may have worsened in the meantime and necessitate additional care.
Concierge services or healthcare cooperatives
Concierge services are often viewed as the purview of the wealthy. Under this model, clients pay a yearly fee directly to their doctor's practice and receive access to their doctor and commensurate services and specialists on demand. The cost can range from hundreds to tens of thousands of dollars each year, and most concierge practices only accept cash payment; they do not take health insurance.
These services appeal to consumers with health insurance who want immediate appointments or are frustrated with their doctor and want personalized attention. Those without insurance may decide to take the risk of going without and will instead use a concierge service for any issues.
Cooperatives are a form of health insurance owned by policyholders. Most co-ops are too small to have economies of scale; this lack of market share has rendered the co-op option largely unknown to consumers, though they were included in the 2010 healthcare reform law. Of the 23 that were established starting in 2014, 11 of those had gone out of business within two years. As of 2021, only three were still operational, though one (Mountain Health Co-op) operates in three states (Montana, Idaho, and Wyoming).
While concierge services and cooperatives are a small part of the market, they may become a more significant threat given younger consumers' preference for smaller and more sustainable organizations over large, impersonal conglomerates.
Drugstores and big box retailers
The $69 billion CVS Health acquisition of Aetna in 2018 was a watershed moment in the healthcare industry, signifying the eagerness of players to become involved in other areas within their vertical. The size of the CVS pharmacy network and its integration with Aetna's insurance offerings gave regulators pause before approving the merger, with concerns about anticompetitive practices at the forefront of debate. These concerns related to the idea that Aetna might funnel its beneficiaries to CVS pharmacies, creating a monopoly that would harm consumers and other drugstores. In fact, CVS unveiled a plan in 2020 that would give Aetna customers preferential treatment at CVS stores by giving them access to appointments at the CVS MinuteClinics and HealthHUBs with no copay, in addition to free prescription delivery and discounts on health-related goods.
Other retailers such as Walmart and Walgreens have also added in-store clinics. Walmart partnered with Humana to offer COVID-19 vaccinations, though a rumored merger between Walmart and Humana has not materialized.
The implications of these maneuvers are significant: Retailers that ally with insurers can steer business accordingly, leaving out competing insurance companies. Furthermore, the advent of in-store clinics signals yet another potentially attractive healthcare option for consumers who find that their salaries are not keeping up with rising health insurance premiums. These clinics are also appealing to insurers and can help them drive down costs. Aetna, for example, could encourage a customer with a chronic but manageable condition to seek regular checkups from one of the CVS walk-in clinics rather than going for a more expensive doctor visit. These regular checkups have the added benefit of staving off the costly medical complications that can arise when patients neglect regular care.
Even though consolidation in healthcare usually leads to higher costs for consumers, these pharmacy-insurer mergers could benefit them by offering incentives such as discounted prescription prices, thereby putting pressure on other insurers to similarly reduce drug costs.
Disrupters
Within this category are some of the largest companies in the world, such as Amazon and Apple, and startups interested in disrupting the healthcare space. The players within both may be only tangentially related to healthcare, if at all. The combined effect of funneling customers away from health insurance companies could have an outsized impact, mainly because many, if not most, of the new entrants do not labor under the negative perception that health insurance companies do.
Some of the operators within this category include:

1. Amazon. Amazon formally entered the eCommerce pharmacy market in 2018 with the acquisition of PillPack, an online pharmacy retailer that sorts and ships medication directly to consumers' homes, and is now reaching out to consumers directly as Amazon Pharmacy. Amazon has also been acquiring wholesale pharmacy licenses in different states, prompting speculation about how far the giant will go to become entrenched in the pharmacy market. However, not all has gone according to plan. In 2018, Amazon had announced a joint venture with Berkshire Hathaway and JPMorgan Chase & Co. to form a healthcare company that would focus on reducing costs for their US employees; that venture shut down in January 2021.
2. Apple. Apple is one of the leading companies globally, in large part due to the trust that consumers have in the brand and its products. According to data compiled by the American Customer Satisfaction Index, Apple ranks as the company with the highest customer satisfaction score, at 82 out of 100 points. More than 60% of US households own an Apple device, as Apple has managed to combine volume with premium pricing in a manner that is the envy of most other consumer packaged goods firms. One of the most critical aspects of this level of trust rests on extendability, or the fact that Apple can venture into new markets that would be seen as a stretch for less-trusted brands. Consumer trust is one of the reasons Apple was ranked as the world's most valuable brand in 2020 in the annual Brand Finance Global 500 index.
In 2018, Apple moved into the electronic health records arena, adding a feature that allows patients to aggregate their health records on their iPhones. This move dovetailed with a subsequent announcement of its electrocardiogram app for the Apple watch, which notifies users of irregular heart rhythms. Apple recently announced a blood oxygen sensor on its Series 6 watch, which is essentially a pulse oximeter and can be an early indicator of potential COVID-19 infection. Given that many of these offerings revolve around the existing iPhone ecosystem, Apple is likely to be a formidable player in healthcare should it choose to proceed down that path.
3. Telemedicine companies. With their focus on an at-home care model, these firms have been able to take advantage of a cautious populace that would rather not be exposed to possible pathogens in a doctor's office, particularly during a pandemic. In addition to pulling people away from emergency rooms and urgent care, telemedicine also caters to people who aren't able to get time off work for an in-person office visit or who don't have insurance and find that these video services are less expensive.
Telemedicine has expanded to such an extent that there are specialized offerings for various audiences, from Maven Clinic catering to women and their specific health concerns to FOLX Health geared toward LGBTQ patients. Teladoc was one of the early entrants into this space, providing quick connections with doctors (generally within 20 minutes) and addressing 92% of clients' medical issues in one call. Another company, Doctor On Demand, lets consumers designate a particular doctor as a favorite, in a sense facilitating a doctor-patient relationship similar to what one might get in a more traditional setting. And while there was initial skepticism about the lack of in-person contact and its impact on the physician-client relationship, the benefits soon became clear: Patients no longer had to carve out enough time to drive to the doctor's office, potentially pay for parking, wait, etc., but instead could simply get online at the appointed time. In a Toptal podcast exploring the role of telehealth after COVID-19, Dr. Jonathan Wright, Medical Director at the University of Washington Medical Center Urology Clinic, noted that telemedicine has the added benefit of allowing more than just the patient to be present on the call, even family members who are not in the same location.

4. Oscar. This digital, direct-to-consumer health insurance company, valued at $8 billion, filed to go public in 2021 and raised $1.2 billion in its initial public offering. Oscar was founded in 2012, and through its edgy advertising sought to target younger people who were too busy to shop for traditional health insurance. The brand promoted user-friendliness and less bureaucracy, emphasizing accessibility through a larger reliance on telemedicine. However, small networks that led to difficulty procuring actual healthcare services have engendered widespread customer dissatisfaction, with complaints similar to those levied at legacy insurers. To address its limitations, Oscar has partnered with several large companies, including Humana and Cigna, thus showing the difficulty in competing with insurance companies on their terms and without economies of scale. This does not mean that similar efforts to create a different kind of insurance provider will not succeed, but rather that the traditional model needs a complete reworking.
Impetus for Change
What is the impetus for large-scale change among health insurers?
Given that consumers are often a captive audience for healthcare insurers and there are high barriers to entry to the insurance market, why are so many health insurance companies pursuing a digital strategy? The answer revolves around several trends within the healthcare industry, some of which are outlined here.
The new digital age and the rise of AI and IoT in healthcare
The pandemic has given new urgency to the idea of using connected healthcare solutions. Still, even before 2020, the medical community was turning to artificial intelligence (AI) and IoT for diagnoses and treatment.
AI. There are significant opportunities for the application of AI in healthcare to automate some processes so that companies can prioritize work that requires human engagement or interaction. The health insurance industry relies on AI and machine learning to reduce costs by identifying risk and optimizing care, but many other potential applications exist. One example is in the assessment of claims. Manual verification of claims is a tedious process, given that midsize insurers receive about 700,000 claims from hospitals every year. Using an AI algorithm to determine which claims may be fraudulent could save significant amounts of money by filtering out just the claims that need further manual review. A similar methodology could be used to pre-authorize medical procedures; this is likely to be viewed as a benefit by consumers, who are accustomed to having non-specialist third-party vendors deny these requests out of hand.

Other examples include using AI to determine appropriate treatment based on inputs; a Toptal Projects team worked with Preventia Group to develop the Preventia Caregiver app, which uses AI to help caregivers track medications, document medical visits, and create snapshots of their patients' conditions to share with doctors and researchers. This is the type of technology that can alleviate challenges for caregivers as well as medical professionals in a simple and intuitive way.

IoT. IoT has played a leading role in connected devices related to healthcare. Ubiquitous devices in this category include wearable fitness trackers and smartwatches, with almost 67 million smartwatches sold in 2020, reflecting year-over-year growth of 11.7% and a projection of more than 250 million smartwatches alone sold by 2025. Monitoring units that can provide data to healthcare providers and insurance companies could be invaluable in alerting the wearer and others to adverse health events as they're occurring or even in a preventive manner. Smartwatches have been credited with letting users know about erratic heartbeats and high blood pressure, or indicating a heart-related event such as a heart attack or stroke.

Since the rise of the smartwatch, many other IoT devices have entered the healthcare market due to their ability to combine assistive technologies with real-time monitoring to produce data that can be used to deliver solutions and recommendations. Not only can this improve patient health, it can also reduce healthcare costs and streamline processes along the way. The capabilities of remote IoT-enabled monitoring devices already include tracking of variations in blood pressure and blood sugar, implantable glucose monitoring, trackable inhalers for people with asthma, assessment of heart rate abnormalities, and so on. The need for remote patient management (RPM) is particularly acute in rural areas, where hospitals are closing and healthcare providers can be some distance away.

The current acceptance of nonintrusive forms of RPM by both patients and doctors suggests that insurers have opportunities to push for wider adoption. A 2017 graphic created by CRF Health (now Signant Health) noted that:

71% of healthcare professionals ranked RPM, wearables, and caregiver collaboration tools as most impactful on patient experience and care coordination.
62% of patients said RPM devices that track and send data to their doctors would help them manage their condition.
40% of older people want access to technology that alerts physicians and caregivers.

Of course, IoT has a range of applications in healthcare beyond those that focus on consumer collaboration. In hospitals, cardiac monitors and pulse oximeters are connected devices that alert medical staff when a patient is having a health problem. But even these are only as good as the end user and the environment in which they are operating. Kyle Kotowick is CEO and Founder of Invicton Labs, a Canadian company that consults on and develops prototypes related to IoT, and he is a member of the Toptal network. He notes the importance of strong product design, since products like hospital monitors that continually trigger false alarms quickly lose credibility for the end user. This is a universal truth for IoT in healthcare, given that faulty devices lose the trust needed for wide-scale adoption at the individual consumer level as well.

Adoption of IoT is not a panacea for the problems that are rampant in the healthcare sector, particularly with issues such as affordability and security in the spotlight. But with widespread recognition that changes in health provisioning are not just imminent but necessary, it stands to reason that insurers will be exploring every avenue to shift responsibilities to other stakeholders.

While AI and IoT are two of the technologies at the forefront of medical advancement, there are other types of IT that are continually being researched and trialed for their use in medicine. Augmented reality (AR) is one area of exploration that has already shown dividends. Toptal worked with Lynx Equity to develop a new generation of operating tools for orthopedic surgeons, by combining AR with traditional surgical techniques that can be used in real time. By providing accurate sizing and allowing surgeons to anchor holograms to the bone for measurements in the operating room, the platform will allow hospitals and surgeons to increase the volume of surgeries performed and reduce hardware costs, while also improving patient outcomes.
Changes due to the pandemic, i.e., shifts in consumer behavior and acceptance of new norms
The COVID-19 pandemic prompted numerous changes in the healthcare realm, many borne of necessity. Providers had no choice but to embrace telehealth as an option. Although this was previously on the medical establishment's radar, it was not deemed a priority, despite patient interest. In fact, before the pandemic, the 2019 State of Consumerism in Healthcare report revealed some eye-opening results:
A majority of respondents, 83%, said that they were interested in receiving virtual care from their medical providers.
At the same time, only 17% reported that they had access to it.
Healthcare provider priorities clearly diverged from those of patients; only 27% of provider executives surveyed said that offering a variety of virtual access points was a high priority.

Furthermore, insurance companies themselves put up barriers to telehealth. Dr. Wright also notes in the Toptal podcast that before the pandemic, "insurances weren't paying the same parity for online visits versus visits that were being done in person." This had the impact of disincentivizing doctors from recommending telehealth appointments, particularly given the initial startup costs required to implement a secure and reliable video call process.
However, in addition to speeding up the trajectory of new forms of access and showing that it could be done successfully, the pandemic also revealed existing fault lines in the healthcare system that have been exacerbated by the continuing crisis. The most critical of these is the lack of extra capacity, a condition that will only worsen as doctors, nurses, and other health workers leave the profession in record numbers due to burnout, chronic understaffing, and a sense that they are not valued even while they risk their lives to treat patients. An April 2021 study by healthcare jobs marketplace Vivian found that 43% of nurses were considering leaving their jobs in 2021; that figure is 48% among intensive care unit workers. Another poll by The Washington Post and the Kaiser Family Foundation conducted in March 2021 was even more damning: 3 in 10 healthcare workers have thought about leaving the profession, more than half are burned out, and 6 in 10 say that stress from the pandemic has harmed their mental health.
For insurance companies, this scarcity of resources will combine with potentially greater numbers of sick patients in their systems due to the long-term aftereffects of COVID-19. This includes people who have had the disease and are dealing with resultant health issues such as lung and heart problems. However, because of the pandemic and the resulting lockdowns, diminished hospital or urgent care capacity, and lack of available medical personnel, many people have had to postpone care for new or chronic conditions. Other people have gone undiagnosed and thus untreated for conditions that have worsened over time and now require much more extensive medical intervention.
A deep dive into technology, consumer trust, and the future of healthcare.
The introduction of new care models and providers has increased fragmentation in an already highly fragmented system. Therein lies the issue: In order to ensure that customers can receive the care they expect, insurers may find it not just ideal but also necessary for these customers to take on a larger role in their healthcare. Yet consumers may feel that given the premiums they're paying, they should not have to take on so much of the healthcare burden; they also have more avenues to explore with regard to healthcare and treatment. A more palatable approach might involve framing this pivot as giving consumers greater agency over their own healthcare instead of having an insurer make those decisions for them.
Competitive pressure
Competition is encroaching on the health insurance industry from all directions, and insurers have many factors to consider when determining a strategic approach that will achieve a competitive advantage. Consider:
Insurers are competing against companies that have a more positive brand image and don't have the negative connotations that many consumers associate with health insurance.
Consumers have many more options for healthcare, which may or may not involve insurance. While it's true that there are high barriers to entry within the insurance enclave itself, younger consumers in particular seem willing to explore healthcare ideas that move beyond the traditional offerings. They have seen that telehealth is a viable option, and that one can go to Walgreens with an expectation of competent medical care. Their calculus may further extend to the understanding that the hospital cannot turn them away in a medical emergency.
The politics around the federal government's role in healthcare are uncertain, and recent elections have shown that nothing is predictable. The possibility of single-payer healthcare seems unlikely, but the health impacts from the COVID-19 pandemic on the US population could change the calculations in unforeseen ways.
Changing demographics
As more baby boomers move onto Medicare plans, health insurance companies must work on increasing membership through targeting new audiences that likely have not grown up with a solid grounding in employer-funded healthcare, given that they have always lived in a world with the ACA as an option. Younger consumers have also shown themselves to be concerned with ideas of corporate social responsibility. They are much more likely to admire, work for, and purchase goods from companies that they feel are ethical. As surveys have indicated, this is not the current perception of health insurance companies.
At the same time, one cannot discount the influence of millennials and Generation Z. Gen Z consumers were born in the late '90s and early 2000s and comprised 40% of all US consumers as of 2020. This population is price sensitive, digitally native, and accustomed to speaking out about their wants and needs. For insurers, this means trying to attract a population that will not only shop around for the best insurance option, but will also share their experience with a wide audience online, making it incumbent upon health insurance companies to ensure that they are not getting publicity for all the wrong reasons.
Younger consumers have also been most impacted by the pandemic on the healthcare front. TransUnion Healthcare's 2020 patient financial experience survey showed that 33% of Gen Z respondents and 29% of millennials reported that their health coverage was affected by the pandemic, compared to 18% of Gen X and 12% of baby boomers. Much of the greater impact was due to deferring nonessential care and a loss of health insurance coverage. These demographic shifts are likely to influence how much attention insurance companies pay to changes in the political sphere. Both state and federal lawmakers will have their own views toward healthcare, and just as the demographics of their constituents shape their policies, so too will insurers have to navigate those changing laws and regulations.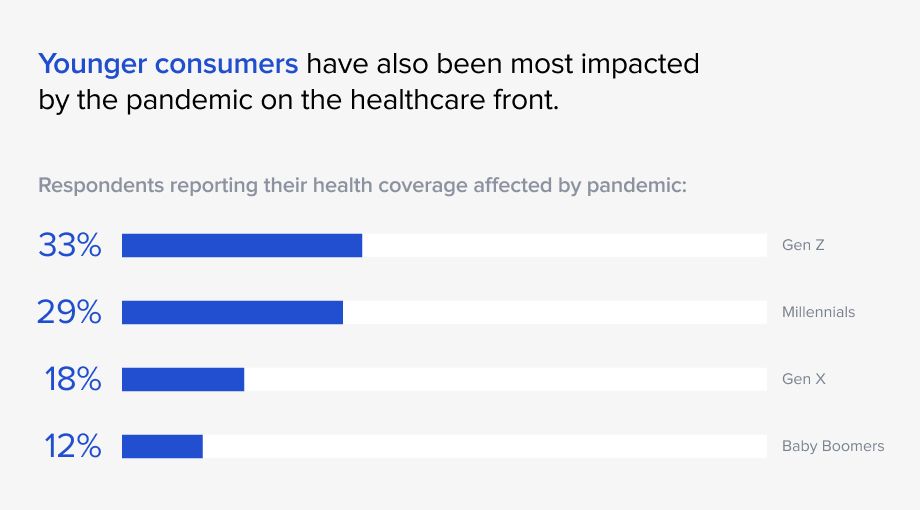 Potential barriers for health insurance companies to overcome
Consumer distrust
Health insurance companies are profoundly unpopular, incurring a net favorability rating of -32, a score on par with large banks during the 2009 recession and only slightly above drug companies. The reasons for this intense dislike have been well-chronicled for many years, based on the following:
Pre-existing conditions

a. Before the ACA was passed in 2010, finding health insurance on the open market was an experience so fraught with anxiety that many people would stay at their place of employment simply to have an insurance plan. A large part of this was due to the complexity of the process: Each application had numerous pages to fill out detailing every past medical procedure, every past illness, every medication, past and present. An oversight might mean that a later diagnosis could be disavowed because the patient neglected to mention a "pre-existing condition," while many people were simply excluded because they disclosed a pre-existing condition.

b. If one did have insurance and was then diagnosed with an illness, that person would likely be unable to change insurance plans because no other company would accept them as a client.

c. Even with the reforms of the ACA, insurance companies have found ways around the pre-existing condition ban. For example, some companies place drugs needed by high-cost patients with certain diseases into a more expensive tier, in an effort to make them essentially unaffordable and push patients to switch to another insurer that charges less for those drugs.

Automatic denial of claims or for authorization of procedures

a. A patient who has had a medical treatment recommended by their doctor may discover that their insurer has rejected authorization of that treatment, despite its seeming necessity. A December 2017 study from the American Medical Association (AMA) showed 86% of physicians reporting that prior authorizations had increased during the previous five years, and 51% said that they had increased significantly. Doctors also noted the frustration of educating the insurer's reviewing physician, who might not be familiar with the specialty involved. Other practitioners recognize that insurers put obstacles in place to discourage utilization. Denial of filed claims is another common practice that saps the patience of patients.

b. Refusal to authorize procedures can be so expected that medical practitioners may preemptively not recommend specific tests out of a certainty that insurance will not cover them. In the same AMA survey, more than 90% of responding doctors said that prior authorizations have a negative effect on patient care, either by delaying care or causing patients to abandon treatment.

c. The seemingly arbitrary nature of these denials is a source of frustration for doctors and patients alike. It adds to consumers' impression that insurers are primarily focused on taking their payments while not paying for needed medical care.

A bureaucratic labyrinth

a. Not only do consumers have to navigate numerous inefficiencies inherent in the health insurance process, but physicians are ensnared as well, often spending days trying to get medically necessary treatment authorized. Patients trying to facilitate their treatment while battling a severe illness are left resentful that so much time is needed to deal with multiple layers of approval, large amounts of paperwork, proactive follow-up to get test and scan results, and so on.

Difficult to understand provisions

a. Health insurance policies are difficult to parse even for those well-versed in the language and terminology; for a layperson, the confusion over what each provision means can be profound. The complexities related to understanding the exact parameters and limitations of in network versus out of network, deductibles that differ based on services or drugs, which coinsurance applies for which services, and so on, lead to a populace that continually makes financially inefficient decisions. A study by the Journal of the American Medical Association from 2015 looked at the complexity of choosing a health insurance plan and found that only 14% of insured adults surveyed could answer four simple multiple-choice questions about their policy's cost-sharing features. Most could not estimate the cost of their medical services.

Lack of transparency

a. Advocates for price transparency related to medical costs point out that prices for healthcare services vary widely based on numerous factors: state, region, medical provider, whether a patient has insurance, and so on. Healthcare is perhaps one of the few areas where consumers are unaware of how much a test, visit, or procedure will cost until after the fact, which prevents them from researching prices for their treatment. The federal government has been pushing for price transparency. One key rule that took effect January 1, 2022, requires that insurers provide enrollees with price and cost-sharing information for covered health services. While a 2019 Harvard Harris Poll showed that 88% of Americans believe that hospitals and insurers should be required to disclose prices, those same hospitals and insurers have been suing the federal government over rules related to price transparency.

Complex policies that can entrap patients

a. We have touched upon the confusion surrounding the details in any health insurance policy and that enrollees are often unclear on the impact of each provision. Yet even those who carefully study those details can find themselves facing unexpected medical bills. Examples include patients who make sure their surgery and physicians performing that surgery are covered by insurance only to discover later that the anesthesiologist was out of network; the practice of balance billing, whereby a treatment is covered but the amount that insurance will pay is lower than what the doctor or hospital charges, and that extra cost is directed to the patient; and retrospective denials, in which the insurer pre-authorizes a service but then denies the claim. All of these are exacerbated by the fact that healthcare is governed by highly inelastic demand; when patients need an emergency medical procedure, they often have neither the time nor the bandwidth to comparison shop on prices.
Cost
In 2010, before the ACA, the number of uninsured Americans stood at 46.5 million. After the ACA's passage, that number began to drop substantially, and in 2019 (i.e., pre-pandemic) stood at about 29 million. Of those who remained without coverage, 74% cited high cost as the main reason, despite federal government subsidies for plans under the ACA. Other reasons for being uninsured included "did not need or want," "signing up was too difficult or confusing," and "cannot find a plan that meets needs."
One goal of the ACA was to reduce costs to consumers, because insurance companies could no longer charge different rates based on gender, health, and so on. Yet rates and deductibles have increased such that the percentage of adults who said they had difficulty finding affordable coverage in the individual market rose to 42% in 2018, from 34% in 2016.
The pandemic has only worsened the problem. A December 2020 survey of US adults by AccessOne noted that 66% of respondents reported that they were concerned they wouldn't be able to afford medical care in 2021. And about 12 million Americans had lost their health coverage as of August 2020 because of the pandemic, according to the Economic Policy Institute.
High salaries and overhead
Health insurance companies began with the mission of providing affordable and high-quality healthcare to all rather than turning a profit. Blue Cross Blue Shield was one of the first major insurers, a nonprofit that accepted anyone and charged everyone the same rates. Regardless of nonprofit status, however, companies have few guardrails on how they spend their money, particularly with regard to executive salaries. Consumers are often surprised that even nonprofits are not constrained in what they can pay out as salaries or spend on overhead. Overall, the salaries for CEOs regardless of filing status are often in the tens of millions, and the companies themselves have reported billions in profits even in 2021.
Security concerns
Consumers are understandably wary of having their health data compromised, as the health insurance industry is a prime target for hackers seeking sensitive and valuable medical and financial data. Security breaches are not rare. There were more healthcare data breaches reported in 2020 than any other year since 2009, when the US Department of Health and Human Services was required to start publishing these figures on its website. The companies impacted have included Anthem in 2015, Blue Cross Blue Shield in 2016, and Benefit Recovery in 2020.
While cybersecurity is a threat across industries, consumers are likely to view protection of their health records with particular trepidation for several reasons:
Sensitive and personal information. There is a reason that federal privacy laws around medical information are strictly enforced. The penalties for not maintaining confidentiality are severe: Consumers are apprehensive that their personal medical information will fall into the wrong hands. Even though much of the social stigma has been removed from many ailments, consumers are reluctant to be a test case for acceptance and would prefer not to have their data compromised. Sensitive situations might involve a celebrity wanting to keep a cancer diagnosis secret or an employee worried that their employer will find out about an illness that infrequently flares up but will require occasional time off. In any of these cases, the effects of a data breach on a person's life can be devastating.

The potential for ransomware attacks. Recent ransomware attacks have not targeted any one industry; entities affected have ranged from large food conglomerates to IT firms to entire towns. These attacks have had far-reaching repercussions and have shut down entire businesses, but an attack on a healthcare-related system would be catastrophic. The potential scenarios might involve a hospital unable to proceed with scheduled surgeries because insurance information and authorization is inaccessible, or a patient being turned away from a long-awaited appointment because of the same problem.

Disruption of services. Theft of medical files or hacking of information could easily cause chaos across systems in myriad ways. While ransomware attacks shut down businesses entirely, theft or hacking can impact patients in ways that they might not even be aware of until later. An alteration of data, for example, might lead to patients being sent for the wrong tests or procedures, or being given inaccurate test results. Theft of insurance data can cause inconveniences such as patients having to resubmit their information and history, or catastrophes if time-sensitive healthcare issues cannot be addressed.
These scenarios speak to the criticality of the most stringent and infallible security measures for the entire healthcare industry. The interconnectedness of patient data also plays a role; a health insurance company may have relatively tight cybersecurity barriers in place against attacks, but a lack of the same in a small doctors' office, for example, could have an outsized impact when information is transmitted. And, there are no easy answers: Gleidson Nascimento, an expert on DevOps and cybersecurity in the Toptal talent network, notes: "The black hats [hackers] are a globally distributed network unconstrained by traditional ways of working, and new tools and automation alone won't keep threats at bay."
The fact that health insurance companies are not immune to cyberattacks and have already had breaches speaks to their need to upgrade tech stacks and have true experts in place to mitigate risks, strategize a complete security solution, and have the latest technology training to keep ahead of the ever-changing nature of cyberattacks.
Rebranding Efforts
How are health insurance companies trying to rebrand?
Rather than remaining narrowly defined, some health insurers are moving toward rebranding themselves as healthcare companies in a broader sense. This has already happened with other players in this industry vertical. Examples include Walgreens adopting a new vision of being a consumer-centric healthcare ecosystem enabled by technology rather than simply a pharmacy retailer, and Rite Aid taking on a transformative revamp to position itself as a "whole health destination that treats mind, body and spirit," according to its November 2020 press release announcing the change.
Mergers and acquisitions within the health insurance sector itself have been robust, with the following deals announced in 2021:
Centene's acquisition of Magellan Health for $2.2 billion, thereby expanding its footprint in behavioral health.
UnitedHealth Group's acquisition of Change Healthcare for $13 billion.
Cigna's deal to acquire for an undisclosed price the urgent care telehealth provider MDLIVE.
Anthem's purchase of MMM Holdings, a leading Medicare Advantage plan in Puerto Rico.
On a smaller scale, Aetna partnered with Apple in 2019 to provide its members with a subsidized Apple watch that is preloaded with Aetna-exclusive iOS health apps to help consumers better manage their health and lifestyles. Each acquisition or partnership is evidence of the strategy that health insurers are building around moving beyond traditional legacy health insurance and into other areas of healthcare.
Another impetus for change centers on perception. It has not gone unnoticed by consumers that the largest health insurers have reported record profits during a pandemic. The New York Times reported in August 2020 that those massive profits were in contrast to the small and rural medical practices that were operating on a shoestring budget and barely able to stay open. Because most consumers will look at those figures and not think about the future costs that could hit insurers in a post-pandemic environment, they may simply add this information to their already poor opinion of insurers.
To counteract this view, the lobbying arm of the health insurance industry unveiled an ad campaign in early 2021 titled "Care Changes Everything." Spearheaded by the America's Health Insurance Plans organization, the campaign was designed to show how health plans "are working together to deliver affordable and accessible care and coverage." Some have categorized this ad blitz with a budget of at least $10 million as tone deaf since many Americans are more worried about losing their health insurance and the high cost of medical care than about the role that insurers are playing in helping combat the pandemic.
Other insurers are working on transforming their organizations. Anthem in particular is pivoting from being a health benefits firm to a "lifetime trusted partner in health." Its stated goal is to simplify the healthcare experience and continue to invest in building out their digital platforms.
A Path Forward
How can health insurers overcome distrust and seize opportunities?
Increasing competition, consumer distrust, and a highly negative reputation: These obstacles will curtail health insurance companies' ability to grow and meet shareholders' needs, even as they are enjoying record profits. In order to take advantage of the opportunities that rely in large part on buy-in from consumers, insurers need to have a cohesive strategic plan that takes into account the foundation on which consumer distrust was built. This plan could consider the following:
Reinventing themselves for new audiences.

a. Younger consumers, particularly those in Gen Z, do not have the extremely negative associations with health insurance that those who are older do. They have always known only a world under "Obamacare," one where stories of insurance injustices are mere anecdotes. Even though most are still of an age to be covered under a parent's insurance, those who have their own policies may deal with certain inefficiencies but nothing similar to the most egregious transgressions of the pre-ACA days. To target this audience via an essentially clean slate, insurers can meet the younger population where they are: in a digital format, with a focus on fitness and mental health, and above all, offering maximum convenience. This demographic will also swap privacy for that convenience, as they are accustomed to offering private information to garner a return or benefit. Gen Z has never known anything other than a relationship with companies that trade data for a service.

b. This mindset gives insurers an opportunity to reset the relationship with this segment of consumers by making clear the benefit to them of sharing data through AI or IoT devices. An incentive to participate would gain more buy-in than just a request, though marketing that emphasizes the preventive and holistic health benefits of data sharing will resonate more with the Gen Z cohort.

Highlighting the clear benefits.

a. Consumers who are skeptical about some aspects of IoT may still view others as a positive, and these should be front and center of all marketing efforts. For example, consumers view the denial of pre-authorization requests and post-treatment claims as a construct of insurers who use third-party vendors with no medical background to adjudicate claims capriciously. Viewed through this lens, the use of AI to make such decisions objectively based on science and facts would be a welcome change.

b. For this audience, benefits might take the form of incentives similar to those offered to the Gen Z contingent. The Aetna program with the Apple watch, for example, offers personalized health recommendations in exchange for data tracking, as well as options to redeem points for gift cards by meeting activity goals.

c. Studies have confirmed that acceptance of data transfer is higher if there is something in it for the user. A 2021 report by MuleSoft noted that almost 44% of those surveyed were fine with insurers using third-party data from wearables and other smart devices if it resulted in lower premiums. The willingness to adopt such practices increased with youth; for younger, digital-native consumers ages 18 to 34, this figure was 62%.

d. Offering bespoke plans could also persuade naysayers to engage in data sharing, if this option truly considers the specific needs of that consumer. By using individual and statistical data to deliver a customized plan, insurers can assure consumers that they are getting the best plan for their needs.

Acknowledging past mistakes.

a. Studies have shown that when physicians make even the gravest of medical errors, patients are more likely to forgive them if an apology is proffered. Yet because they are afraid of liability, hospitals will not let doctors make that gesture, often leaving wronged patients and their families even angrier. Insurers who gloss over a checkered past relationship with patients but who are now asking for those same patients' trust will find themselves facing an uphill battle if no culpability is acknowledged.

Embracing a future as a data company.

a. Health insurers have access to perhaps more data than any other healthcare entity. While the largest hospital systems have amassed vast amounts of historical patient data, for example, this pales in comparison to the data collected by insurance companies on their millions of members. Most insurers, however, are not taking advantage of their data-mining ability, beyond using algorithms to determine which consumers might be more expensive to insure. Aspects that can benefit consumers as well might include using data to offer price transparency or even cost reduction, for the insurer as well as the patient.
And of course, in a world now driven by technology, the most critical factor in getting any kind of transformative effort right is simply this: Do not cut corners on the technical aspects of your initiatives.
Success hinges on the right team and the right technology
Underpinning absolutely everything in the changing realm of health insurance is the fact that getting the technology right the first time is critical. Every initiative discussed in this paper could have a disastrous outcome if the focus is on cost savings rather than on what is best for their members and their customer experience. To that point, insurance companies must develop and maintain a comprehensive list of initiatives aimed at keeping the member first. Many of these will be tech-focused, and finding the most knowledgeable and experienced tech team available will be crucial to success. Often, organizations allocate a significant portion of their resources on the brand and marketing efforts that first unveil and then promote rollout of a new platform, a new app, or a new type of digital experience. Yet if the technology is lacking, not only are those resources wasted but the opportunity to secure target audience buy-in is lost, likely forever. As Kyle Kotowick of Invicton Labs notes: "Reliability is paramount in an environment where the stakes are high. Every component, from power to wireless connectivity, needs to work seamlessly. From an engineering standpoint, this is one of the most difficult aspects to get right."
This problem can be especially acute for healthcare in several critical areas:
Trust. Users need to feel confident that their apps will be used for the intended and stated purpose and not against them. A 2018 Forbes article illustrated the potential risks: Data from a running app showed that a Danish woman who had been receiving insurance payouts due to a workplace injury was much more active than she claimed was possible. Her payments were cut in half, giving rise to the question of whether an insurance company has the right to use data from IoT devices. In this case, the user was perpetrating fraud. Still, there are conceivably many circumstances in which a patient would legitimately want to keep highly confidential medical information (e.g., mental health treatment) from being used to deny or alter services or coverage. Another situation in which a user would want these assurances relates to devices that track exercise or food intake. While consumers may want incentives for making healthy choices, they will be unlikely to participate if they're concerned that insurers could use data about poor choices or a sedentary lifestyle to increase premiums.

How can companies incorporate elements that would engender consumer trust? One way would be to focus on transparency, signifying that consumers will not be subject to unpleasant surprises when receiving bills after treatment. Rather than just reacting to government mandates around pricing, insurers could signal positive intent by offering apps that make it easy for patients to look up information in the moment. "My doctor is recommending a specific test; how much will it cost me after my deductible?" might be a typical question a patient might ask. Currently, consumers need to know their deductible, how close they are to meeting it, what their copay is for a particular kind of physician, and so on. A simple app that makes these calculations for the patient would not be easy to develop, given the need to pull in information from various sources. However, this is the type of solution that would help convince consumers that insurers have their interests in mind and would pay significant dividends relative to the investment made in tech talent with the right expertise for this undertaking.

They could also use best practices by looking at some of the most trusted brands, such as Apple. Apple Pay, for example, garnered much more excitement than the launch of Google Pay at the same time, even though they have similar capabilities and offerings. According to the 2019 Forbes article "Why Is Apple Trusted More Than Google?", in an era of "fake news" and digital breaches, consumers are operating within a trust deficit. They thus are increasingly distrustful of big tech and big brands in general. Apple, however, has built trust through its actions over time. Unlike tech companies that have monetized consumer data and manipulated user experiences, Apple has put a stake in the ground regarding data protection and privacy, with one ad stating, "We believe your privacy should never be something you have to question." However, for this position to be effective, it needs to be backed up by the right technology.

The user experience. Patients with questions or who need immediate assistance have no interest in an interminable wait on the phone. Many companies have turned to technology such as chatbots as a solution, but poorly designed chatbots are worse than nothing at all. Their reliance on AI to function well requires a developer with enough specific experience in this function to know what works well and what doesn't, able to move beyond a rote solution.

Again, this is another area in which Apple excels. While their products on their own have a very loyal following, the company backs this up with a user experience that puts the customer first, using technology in a seamless and targeted way that prioritizes transparency. This can be seen in Apple stores, where employees greet customers, use a tablet to check them in, and keep them apprised of where they are in the consultative process. Other more advanced foundational elements of the Apple experience include an early decision to bring customer service entirely in-house instead of relying on third-party agencies. Indeed, outsourcing can be helpful for back-end functions, but for customer-facing roles, a deeper understanding of the company and its mission is integral to building a solid customer relationship.

Some technologies have been pushed to the forefront due to COVID-19 and social distancing requirements. This includes the aforementioned chatbots, which are low on the list of consumers' preferred communication channels but whose use accelerated during the pandemic. Chatbots in healthcare are particularly fraught with potential issues because they deal with sensitive and urgent matters and rely on AI and machine learning to understand symptoms and map out suggestions. Health insurers may not be offering the diagnoses that a medical provider would, but can still garner goodwill by using chatbots effectively to make consumers' lives easier rather than relegating them to an interminable automated phone menu. Scenarios in which a technologically superior chatbot could be used to consumers' benefit include helping them get plan information quickly or have billing questions answered.

Security. Mitigation of security issues is paramount when it comes to health-related services for the businesses involved as well as their customers. The use of blockchain technology in cybersecurity has been deemed a best practice, given its broad application across industries. Blockchain, which is essentially a type of shared record-keeping that is cryptographically secured, has an exceptionally high number of applications in healthcare, from filing claims and tracking medical records to preventing insurance fraud. Because insurance requires the coordination of many intermediaries, the use of blockchain technology to ensure record security could be game-changing. Its application would also help insurers meet new interoperability requirements for specific plans whereby insurers share health data with patients by implementing and maintaining a secure patient-access portal.

Blockchain and other security-related technologies require experts who specialize in these fields, more so than many other areas of tech, given the speed with which hackers and other criminals find new ways to infiltrate entire systems. Thus, regardless of the specific platforms that they use, the tech talent handling implementation needs to be well-versed in the latest methodologies to account for the increase in security threats.

Need for healthcare knowledge. Technology experience and expertise may not be enough for many healthcare projects due to the many nuances (e.g., urgency, regulation compliance, privacy laws) inherent in the sector. The other relevant aspect of healthcare is the understanding that errors could have catastrophic consequences, i.e. that could lead to severe illness or death.

Companies could find themselves spending a great deal of time trying to find IT employees who have an advanced technology background and experience, concurrent with sufficient healthcare experience to understand the specifics around health insurance. This is an instance in which bringing on full-time talent simply does not make fiscal sense, particularly since finding people with these specific skills is increasingly difficult. Toptal has seen this acute talent shortage firsthand while working with clients in the healthcare and life sciences fields. As Sheila Mahoney-Jewels, Co-founder of life sciences talent platform LifeSciHub, notes, the most qualified people may not be responding to traditional job postings, but they may be "… highly willing to contribute to specific elements of a project where they may have the most impact." Using an on-demand talent model can deliver healthcare-savvy freelancers who are up to date on the latest methodologies and can be used for specific development or design tasks as needed.

Alliances with trusted healthcare providers. Healthcare insurers would be well served by aligning themselves with the healthcare institutions that consumers trust. According to HealthSparq's 2020 Annual Consumer Sentiment Benchmark Study, a resounding 74% of respondents said that among healthcare entities, they trust their primary doctor most. By enlisting doctors in the quest to have members take on more ownership of their health, insurers are likely to gain more traction than if they were acting alone in making those exhortations. Physicians can also help patients understand the new digital tools at their disposal to track their medical data and log health or wellness indicators.

To form long-standing alliances such as these, health insurers need to establish themselves as trusted advisors who promote transparency and digital innovation, and as savvy partners who are aware of the latest technological advances and are willing to commit to the resources necessary for implementation.
Conclusion
For health insurers, the potential benefits of utilizing AI, IoT, and other cutting-edge technologies in the healthcare realm are undeniable. All of the positive outcomes that apply to healthcare providers—reduction in cost, proactive and improved treatment, drug compliance and management, reduction in errors and complications, faster diagnosis and treatment, fewer unnecessary tests—are relevant for insurance companies that make decisions related to members' health. And the market of connected devices in healthcare is largely untapped, with immense room for growth. In a 2019 MarketsandMarkets report, experts predicted that the global healthcare IoT market would grow from $72.5 billion in 2020 to $188.2 billion by 2025, at a compound annual growth rate of 21%.
However, these opportunities come with the caveat that consumers will need to be convinced to play a more significant role in their health management. A higher level of engagement can be achieved through judicious use of incentives and assurances that data will not be used for adverse purposes. Critical to this kind of rollout is the need to get it right the first time by relying on AI and IoT development experts who understand the risks involved, and have the experience and knowledge to develop and implement error-free solutions. They should also be aware of the opportunities to use technology synergistically by pairing blockchain with AI, for example, so that as one technology implementation is being rolled out, it is not already becoming obsolete. With a commitment to using only the best tech talent available and the determination to help consumers reimagine their view of health insurance companies, even the largest insurers can carve out a future in which they hearken back to their roots and are relied on as a true trusted health partner.