The True ROI of UX: B2B Redesign Case Studies
UX designers often need to convince company executives on the ROI of a UX redesign initiative. Here are some real-life B2B redesign case studies a UX team identified in order to make a compelling case.
---
authors are vetted experts in their fields and write on topics in which they have demonstrated experience. All of our content is peer reviewed and validated by Toptal experts in the same field.
UX designers often need to convince company executives on the ROI of a UX redesign initiative. Here are some real-life B2B redesign case studies a UX team identified in order to make a compelling case.
---
authors are vetted experts in their fields and write on topics in which they have demonstrated experience. All of our content is peer reviewed and validated by Toptal experts in the same field.
Verified Expert 
in Design
Miklos is a UX designer, product design strategist, author, and speaker with more than 18 years of experience in the design field.
Previously At
User-centered design isn't just about creating a great experience for customers—it's also a smart business move.
In our previous article "The True ROI of UX: Convincing the Executive Suite," we talked about how to persuade company executives on the ROI of UX, and how to illustrate the value of UX in increasing business KPIs. In this second piece, we discuss how, in order to really drive the message home, it is essential that UX teams present successful case studies of similar B2B UX redesigns.
The trouble is, finding data from real-world B2B UX redesigns is extremely challenging. Through dogged perseverance, our UX team found some useful data, but the proven difficulty of defining the ROI of UX (ie. how to exactly measure it) complicated matters further, and it became evident that the ROI of UX needed to be categorized into "soft" and "hard" dollars.
On the "soft side," results are categorized into increased customer loyalty and net promoter scores (NPS), increased word-of-mouth referrals, productivity gains, and increased efficiency. On the "hard dollars" side, increased earnings and cost savings are gained from fewer support calls, less spent on development, fewer development "redo" cases, less user-testing, increased sales, and so on.
Here are the internal and external ROI measures:
Internal ROI
Increased user productivity
Decreased user errors
Decreased training costs
Savings gained from making changes earlier in design life cycle
Decreased user support
External ROI
Increased user productivity
Increased sales
Decreased customer support costs
Savings gained from making changes earlier in the design life cycle
Reduced cost of providing training
The B2B UX redesign case studies below represent the results of our research into the top 15 global design agencies/consultancies who performed B2B UX design/redesign projects. These case studies come from prominent design/consulting firms such as Accenture Interactive, Boston Consulting Group, McKinsey, Forrester, IDEO, Frog Design, Fjord, Adaptive Path, and others.
ROI of UX: B2B Redesign Case Studies
Bank of America
The giant bank identified and funded a UX redesign project to improve its online enrollment application for online banking. In developing the business case, the design team identified yield (or the percentage of customers completing the process) as the primary metric.
Prototyping and testing various design solutions with yield as the primary success metric proved a successful design strategy. The week the new registration form went live, the yield metric nearly doubled, and exceeded the desired ROI benchmark. This was a win for the design team, as well as the business unit that sponsored the project.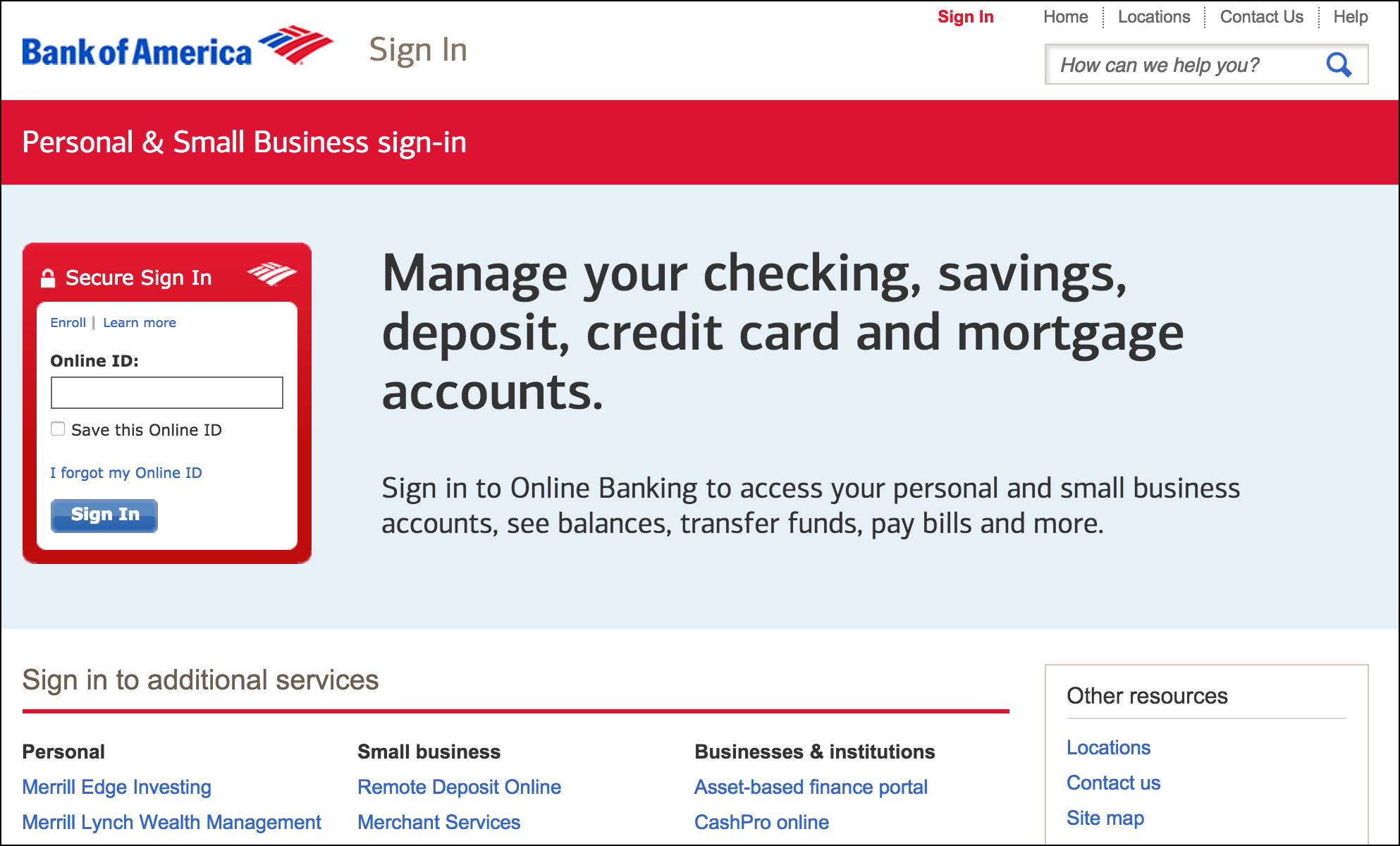 General Electric Software UX Unification
Known for its industrial expertise, by 2010 General Electric Co. had quietly become the world's 14th largest software developer by revenue. These capabilities had grown opportunistically, primarily in response to requests from specific clients. As a result, little software consistency existed across the company and significant development efforts were invested in problems already solved in other divisions.
Overall, users of GE software reported that the quality didn't reflect the excellence of GE's hardware engineering. GE leadership decided to make an investment in creating a common software platform for the company. The Software Center of Excellence developed a UX Center of Excellence that would guide GE management, and drive the culture change to ensure that their software user experience matched their well-earned reputation for stellar hardware engineering.
Leaders, engineers, and designers collaborated to build processes and tools to support culture change together with a core foundation of design tools and success metrics that would support its UX practice. In the first year after its launch, the IIDS generated a 100% productivity gain in development teams and saved an estimated $30 million for the company. These digital transformation initiatives provided the foundation for GE Digital—and GE's leadership in the industrial internet.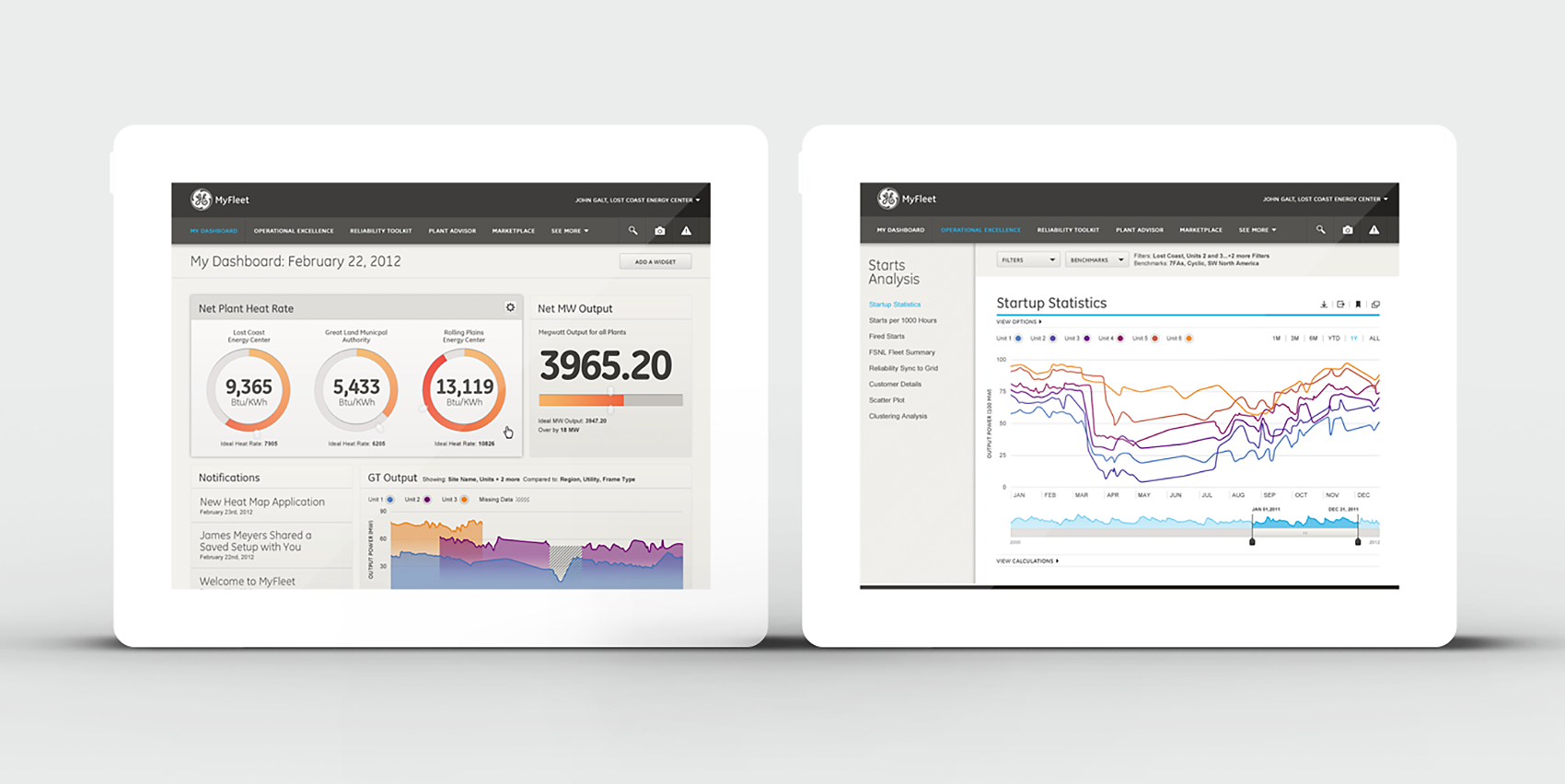 Cathay Pacific
Cathay Pacific Airways is known for its leadership in the adoption of new technologies. The airline was the first in the world to announce plans to install in-flight email, the first to link its Airbus aircraft to its maintenance centers electronically, and the first in the world to auction air tickets online.
For company employees, a staff of eight to ten people work full-time to answer questions and book travel. Working with a design consultancy, Cathay Pacific created a new online portal called TravelDesk, a one-stop shop for staff travel.
The portal design project resulted in significant cost savings for the company:
The online portal reduced call-center volume (employee benefits center regarding policy questions, and service center regarding flight availability).
It increased productivity. Ground staff at the airport previously spent significant time managing the listing and check-in process for employees using their travel benefits. This project reduced the time required for these tasks.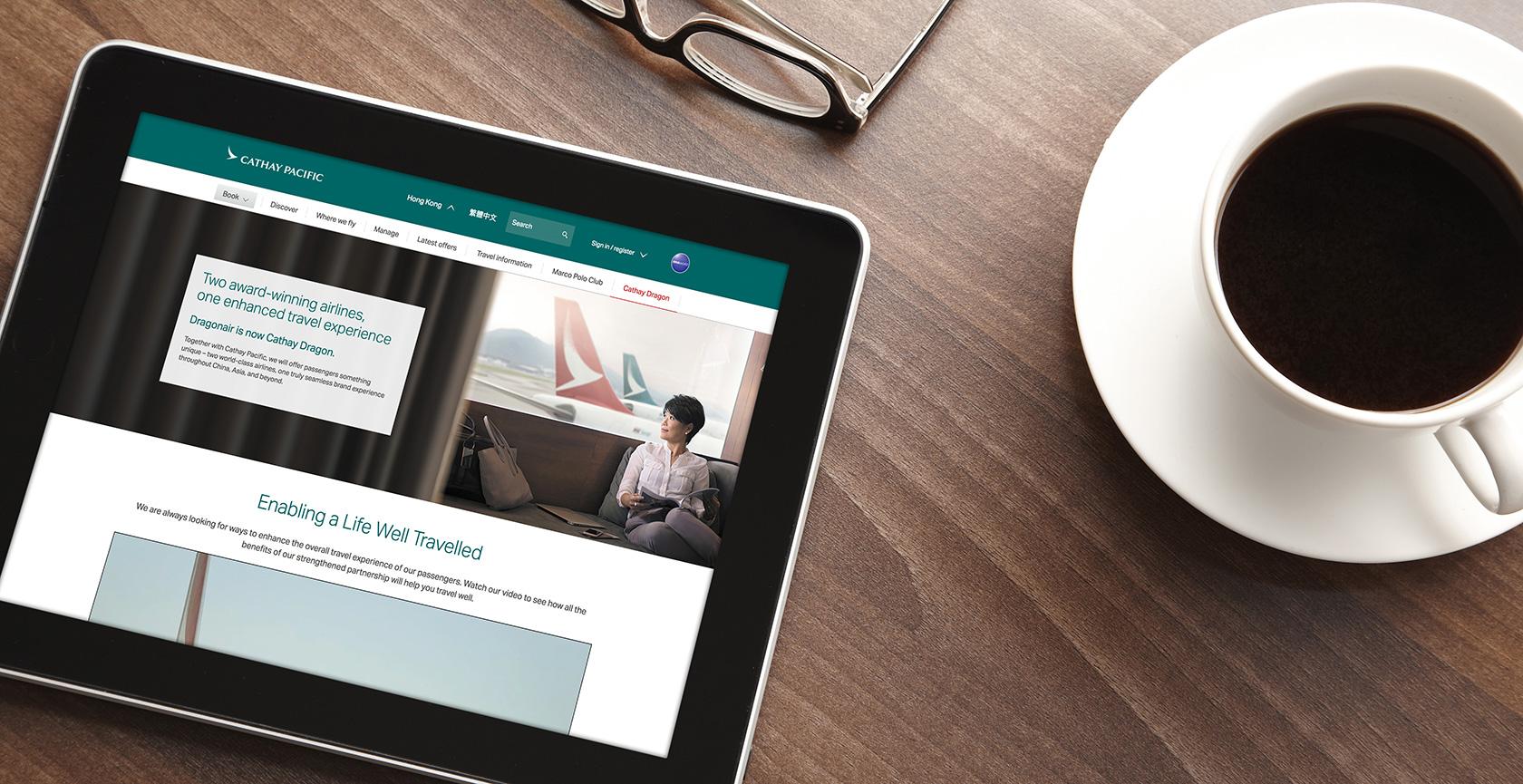 Virgin America Website Redesign
Virgin America was on a mission to make flying fun again. In 2014, the airline decided to reinvent the digital travel experience, and in order to meet the needs of modern travelers, create the world's first responsive airline website. The company decided to design and engineer a new digital platform that could respond to modern travel needs and behaviors.
After successfully A/B testing the new design against the old, Virgin America's reinvented responsive site was released. They announced an IPO following two successful quarters running the new site that had exceeded performance goals in the following areas:
14% increase in conversion rate
20% fewer support calls
Flyers booked nearly twice as fast, on any kind of device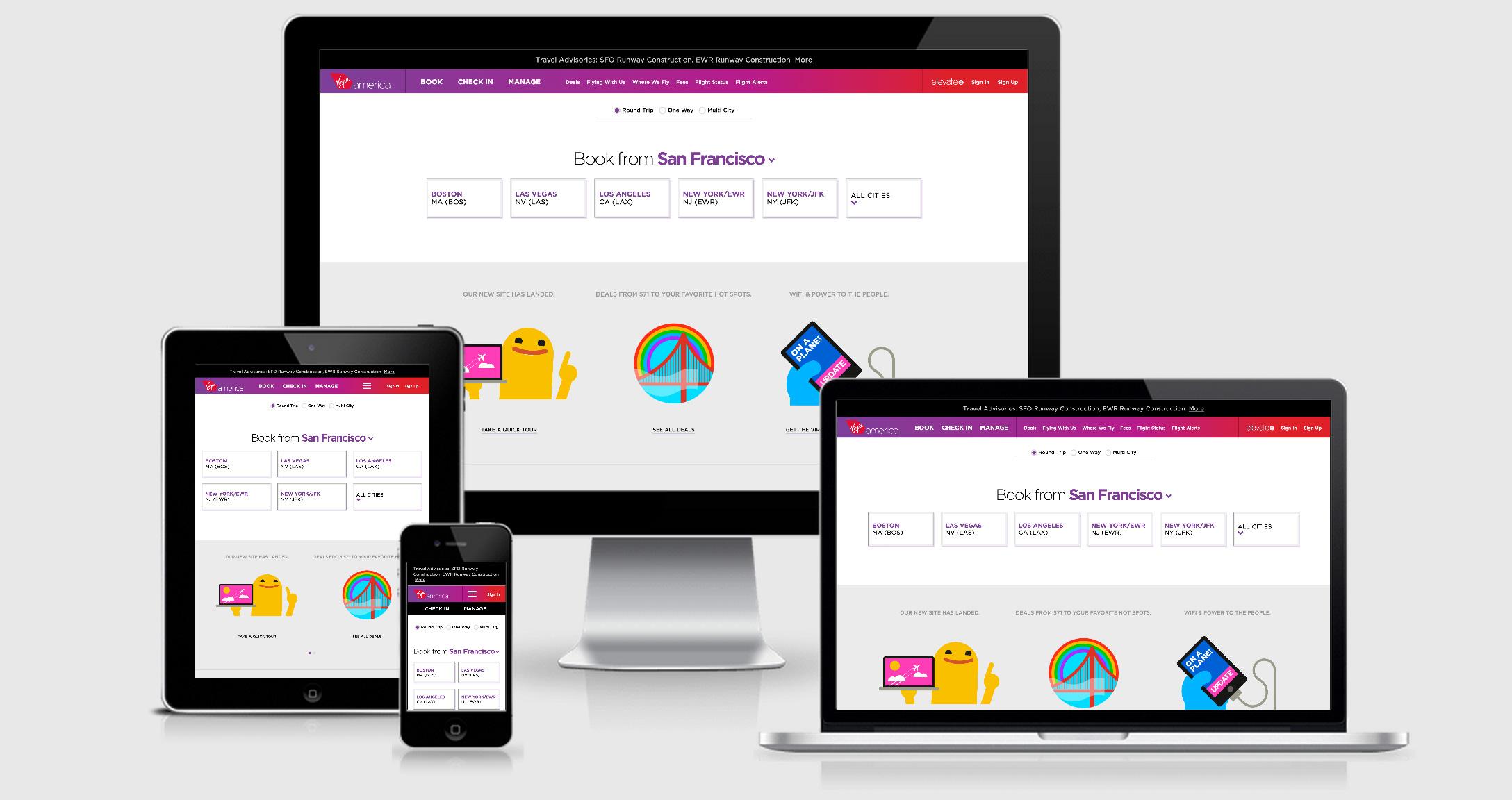 HubSpot
In a recent major iteration of HubSpot, the company decided to re-think the user experience on its site, starting from the ground level with user feedback. They tested entirely new conversion methods, copy messaging, and even visual treatments. As part of the process, they pushed countless experiments live, and iterated with each piece of feedback, putting the user in control.
The result? The conversion rate doubled (tripled, even, in some areas). As HubSpot receives upwards of 10 million visitors per month, one can imagine the impact this had on revenue.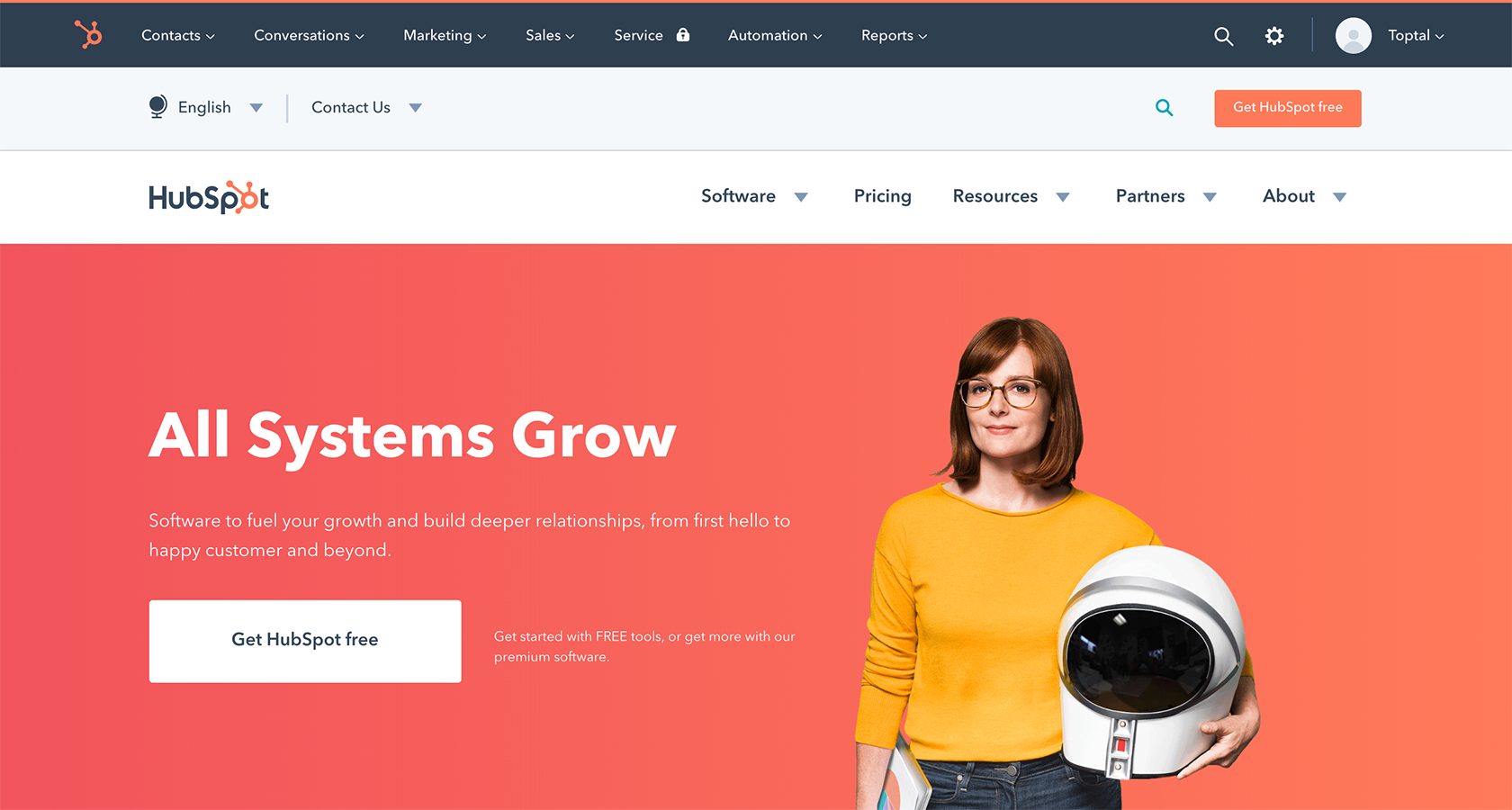 Continental Office B2B Website Redesign
With a brand refresh just a few months prior, Continental Office, a customized workplace solution provider, needed to update its 6-year-old website. The team wanted to ensure they were integrating buyer personas to provide an engaging user experience complete with relevant content marketing.
The old website was fine at the time but wasn't built around telling the whole story while understanding the customer journey.
In creating that great user experience, you have to stay relevant with what people are looking for and then build your website around that, which I believe is what we did and has allowed us to have these successful results. - Rachel Iannarino, Vice President, Marketing.
The results of getting to know customers and building a website around that speak for themselves. Through the redesign strategy, traffic increased by 103% year-over-year and net-new contacts increased by 645%.
Even though we had such great results last year, it's already up — the number of new contacts is up over 80% from last year already. And I can't lie; I keep waiting for these numbers to kind of plateau, but fortunately for us, the results just keep trending in a positive way - Iannarino said.
Music & Arts
Music & Arts sells musical instruments and comprises 150+ retail stores, and 300+ affiliate locations. Their sizable eCommerce site had numerous usability problems that hindered online sales.
There is a detailed case study of this UX redesign project on the Toptal Design Blog: "eCommerce Redesigned: How Minor Changes Made Major UX Improvements."
After a three month UX redesign project that significantly improved basic usability issues (consistency, simplicity, user flow, system feedback) their online sales increased around 30% year-over-year.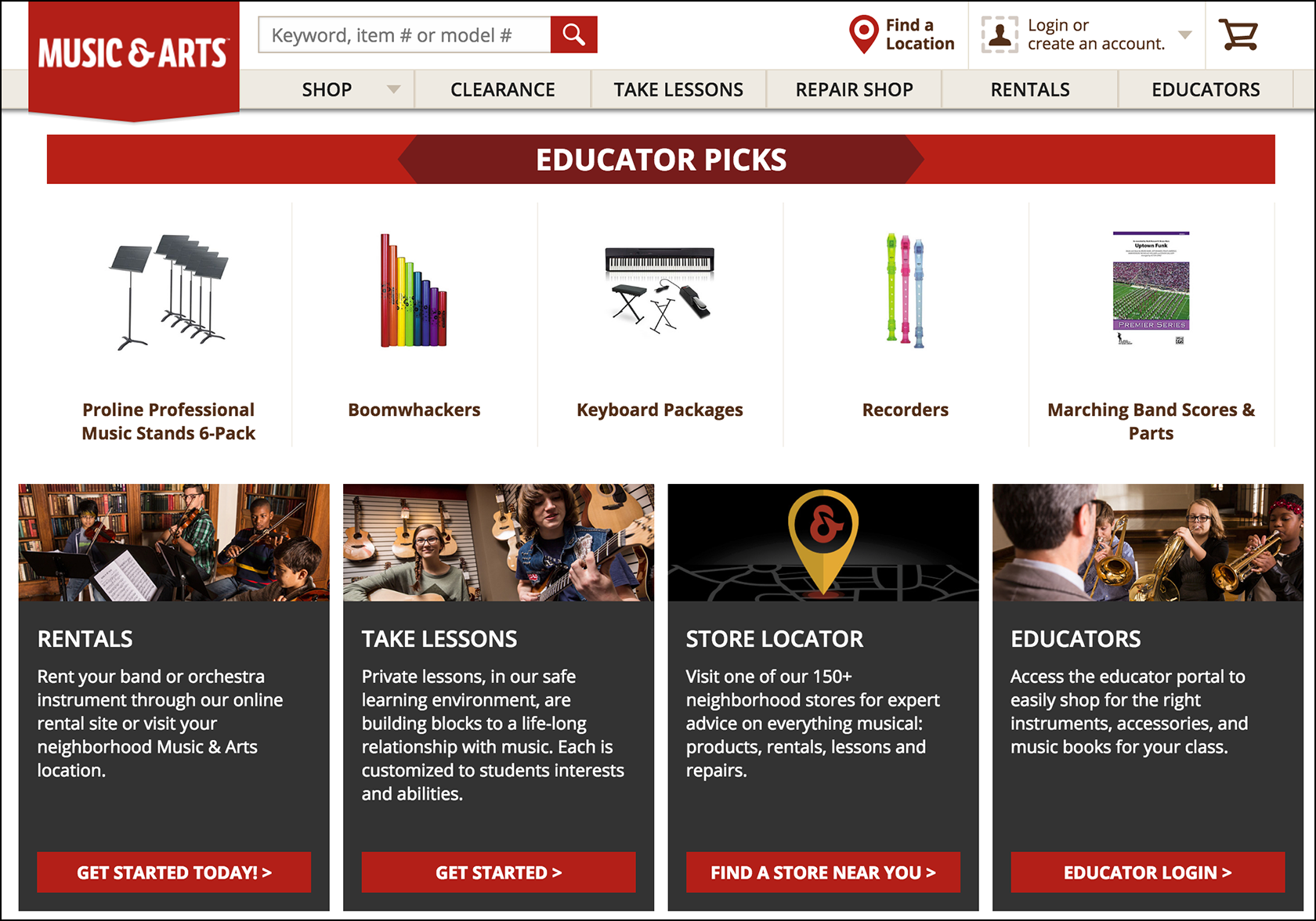 Pubmatic
This ad-tech platform's UX redesign project took over a year. The B2B platform was about 7 years old and was made up of a hodge-podge of UIs, a variety of different-looking web-applications that were created at different times. As the company was maturing, it needed a unified UX design and a brand-consistent look-and-feel.
As a result of the UX redesign, NPS increased from 6 (detractors) to 9 (promoters) over 3 months immediately after launch when measured against the old platform's satisfaction data.
Final Thoughts
A very interesting experiment related to the ROI of UX was conducted by the Geoff Teehan, Director of Product Design at Facebook in 2006. They called it the "UX Fund." The $50,000 fund invested in companies that focus on delivering great user experiences. The hypothesis was that the ROI of UX should be reflected in their stock price over time.
Over a ten year period, from 2006 to 2016—including a major financial crisis in the middle of it—the "UX Fund" returned 450% vs the Nasdaq's 93.2% return (that's 45% annual return over ten years which beats any other asset class). You can read more about this experiment here.
Despite the evidence that UX design investments enhance customer experience and address business problems, executives still find it a challenge to define the financial benefits using traditional ROI measures. UX designers best serve businesses if they can not only create great "designs that work," but are able to articulate and convincingly demonstrate tangible business results and KPIs to executives and stakeholders.
In order to be convincing and really get to the heart of what executives need to hear, UX designers need to think in similar terms to business leaders. Think: how can we best provide business value? If we do this, what will the return on our investment be? What metrics will demonstrate that we've made the right choices?
If done well, design can help bring order and coherence to the disorder that is the current state of the B2B world and enterprise applications. A 2016 design study of 408 different companies found that the more a company focused on and invested in design, the more they saw sales increase and experienced higher customer retention rates—customer engagement soared, and they moved through product cycles faster. All this simply because they put UX design, and more importantly, the customer, at the very heart of their business.
Clearly, good user experience is good for business. Today it's become part of a UX practitioner's job to offer decision-makers a compelling demonstration of the true value of exceptional UX design, and that there is indeed an impressive ROI in UX.
Understanding the basics
How can you improve your website?

One of the many ways to improve a website is to do a user experience evaluation by bringing in a UX expert. A UX expert would consider the website's content, its main customers, and core functionalities, and come up with a user-centered redesign solution.

What does B2B mean?

B2B is an acronym which stands for "business to business." It signifies the exchange of products or services between businesses, rather than between businesses and consumers.

What is the difference between B2C and B2B?

B2C is a shorthand for "business to consumers" whereas B2B is an acronym which stands for "business to business." Consumer-oriented eCommerce websites are an example of a B2C.

What are user experience goals?

The goals of user experience, or "UX," are to deliver an experience to customers that delight and ensure that the right content, features, and functionality are presented in the right place, at the right time, in the right way.

What are UX and usability?

UX stands for user experience which refers to the "experience" an end-user has when using an interactive product. Usability refers to how easy it is to use a digital product. For digital products to work well in the real world, they need to have great usability.

What is the meaning of brand perception?

Brand perception is what's held in the minds of customers when they hear or see something about a particular brand. Brand perception represents the brand values and quality of a brand, and how a customer would feel and think about a brand.
Located in London, United Kingdom
Member since May 20, 2016
About the author
Miklos is a UX designer, product design strategist, author, and speaker with more than 18 years of experience in the design field.
---
authors are vetted experts in their fields and write on topics in which they have demonstrated experience. All of our content is peer reviewed and validated by Toptal experts in the same field.
Previously At