The Evolution of Venture Capital: Investing in Global Talent
By adopting a global talent acquisition strategy, venture capital not only extends the opportunities of entrepreneurship across the world, it helps startups reduce churn and break even faster.
---
authors are vetted experts in their fields and write on topics in which they have demonstrated experience. All of our content is peer reviewed and validated by Toptal experts in the same field.
By adopting a global talent acquisition strategy, venture capital not only extends the opportunities of entrepreneurship across the world, it helps startups reduce churn and break even faster.
---
authors are vetted experts in their fields and write on topics in which they have demonstrated experience. All of our content is peer reviewed and validated by Toptal experts in the same field.
Verified Expert 
in Finance
Erik is a co-founder of a global venture capital fund that has invested in 50 startups (raising more than $500 million) and has realized six exits. He serves as Toptal's Chief Economist.
Expertise
Previous Role
Founding Partner
Previously At
The twin pillars upholding a successful venture fund are its ability to source the highest-quality deal flow and to add value to its portfolio companies, post-investment. While established funds like Sequoia Fund and Kleiner Perkins can achieve these ends through brand power alone, most funds need to offer something more. One value-add that doesn't get enough recognition is talent sourcing.
Tech founders often need help with more than raising capital. For emerging companies located in the major tech centers of Europe and the US, one of the greatest needs beyond capital is the ability to recruit and retain top talent.
As a former VC, I know that this need is acute. Talent usually represents the greatest single outlay for a startup; it's the engine that drives every other aspect of value creation. While talent exists in abundance in the wealthy cities and countries where many founders are based, the competition among large companies and other startups for these workers is fierce. That makes it increasingly expensive to hire locally and leads to high churn rates that can cost startups precious institutional knowledge they can't afford to lose.
That's especially true in the tech space. Even before the Great Resignation, the technology sector had the highest turnover rate in the country, creating financial and opportunity costs equivalent to twice a departing employee's salary.
The solution, however, goes deeper than connecting your founders with an expensive recruiting firm that competes with everyone else for the same local talent. What VCs need to do is help portfolio companies leverage the power of remote work and cast a wider net for talent worldwide.
Global talent sourcing was the central feature of Firstrock Capital, a high-tech venture fund I co-founded in 2014. I believe our approach represents the future of our field.
It's already garnering recognition. In 2019, Andrew Ng, the Coursera co-founder and AI entrepreneur, built a sizable AI team in Medellín, Colombia, which also served as my non-US base. Developing ties to the international workforce will not only benefit your organization but also the global economy by helping it become more inclusive, interconnected, and technology-driven.
We need to rethink the role venture capital plays in high-tech startups, and reconfigure our priorities and processes to help portfolio companies build the strong, skilled, stable workforces that will enable them to succeed. Let me show you how.
A New Venture Paradigm
We know exceptional tech talent exists around the globe, but most US companies wait for talent to come to them. A hefty 64% of Silicon Valley's technology professionals and 65% of its mathematics and computer science professionals aren't US-born. A Georgetown University study found that 33 of the 50 American AI startups deemed most promising by Forbes have at least one immigrant founder.
But visa programs can't bring American tech firms all the talent they need. While there were 1.5 million unfilled US-based jobs in computer science in the US at the end of 2021, only ~56,000 H-1B work visa applications are allocated to this sector per year.
Nonetheless, many investors prefer—or even demand—that their companies' employees work locally. In some instances, that's because they aren't worried about acquiring the capital to help their companies afford higher salaries for a fully on-site team. Other times investors know their local startup community well and feel confident they can connect their companies with important resources, such as attorneys and prototyping labs.
Yet most of these benefits concern knowledge transfer and fundraising rather than scaling, which is the most critical priority after fundraising. Likewise, the very strength of local ecosystems makes them brutally competitive places to staff a team. In order to maximize the positive impact you can have on your companies, you have to look outward.
Our Global Talent Model
The aim of my fund was to support our companies by overcoming the constraints of the local talent pool and taking advantage of all the ways remote work could help the companies thrive.
Before we created our fund, my partners and I founded a number of talent development programs across the Americas. We launched our efforts in Medellín because of its strong existing tech ecosystem and the ease of doing business in Colombia. We also had some existing partnership opportunities there. Later, we expanded our footprint into most of Latin America and South America. Our efforts included creating a foundation where children could take coding classes and setting up various pre-accelerator and accelerator programs to help both individual talent and local startup teams prepare to go global.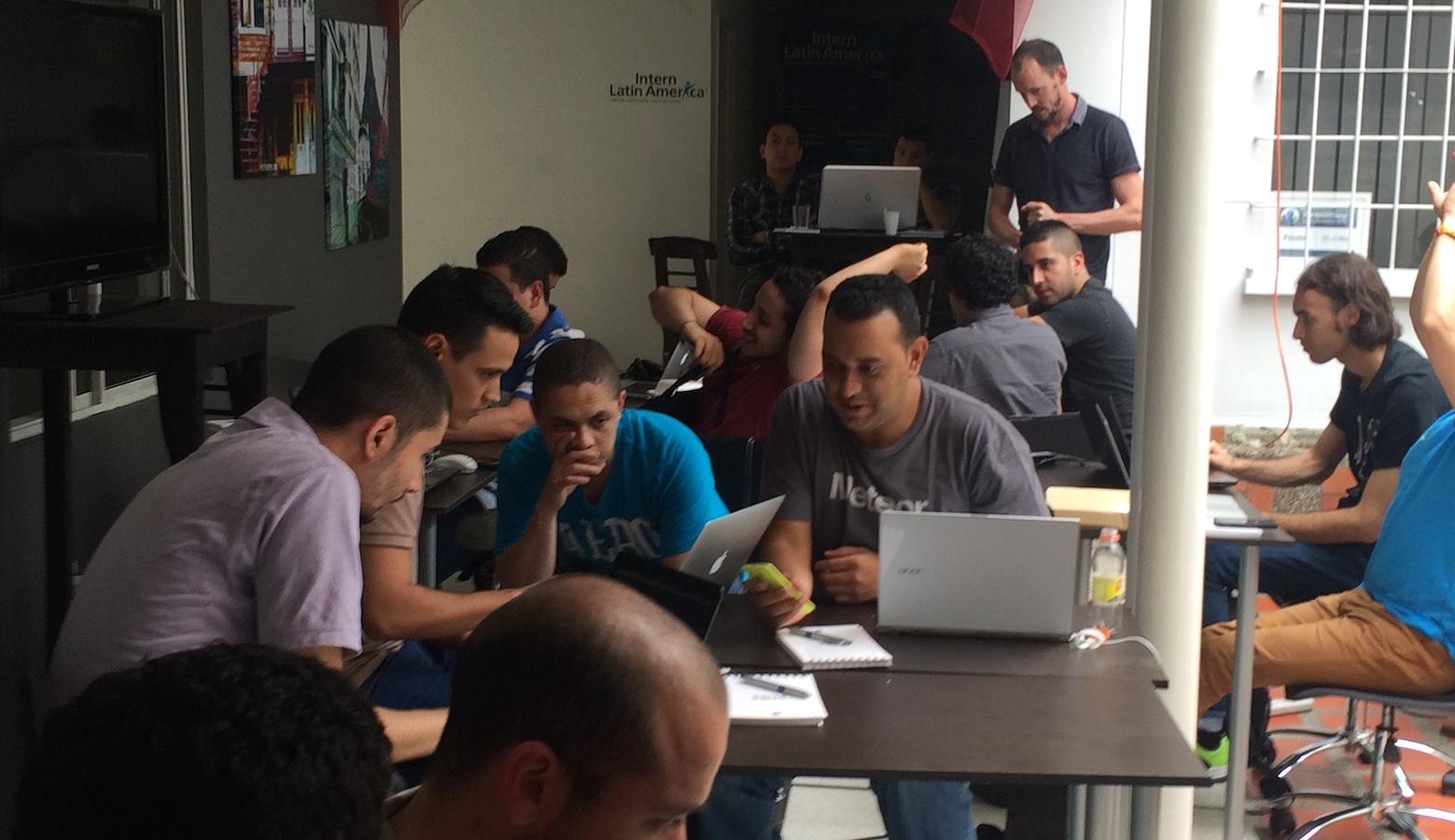 These programs ensured that when we established our fund, we had a qualified talent pool for our portfolio companies to tap. While we didn't set out to build a one-stop-shop pipeline from education to hire, that was the effective result. Many of the graduates from our coding and accelerator programs went on to work for our portfolio companies or to found their own companies that we helped to fund.
Ours was a plain-vanilla US venture fund incorporated in Delaware that invested in other US companies. However, each of these companies had foreign wholly owned subsidiaries that facilitated the payment and contracting for their non-US team members but held no intellectual property of their own.
When we launched in 2014, our approach was hybrid: Our model was a US-based executive team and a globally distributed junior staff. Advances in technology and remote management practices now make it practical to look abroad for senior leaders as well. While telecommuting is now easier than ever, it's still important to maintain an on-the-ground presence for talent development and recruiting, as those face-to-face connections will help establish the nodes of your global network.
One of the top misconceptions about hiring global talent is that the main value proposition is cost savings. While that may be true, it's only part of the story. The fact is this strategy lets you not only maximize the impact of your budget, but also greatly improves both the speed to hire and subsequent retention rates.
For early-stage companies, keeping the team small and senior is optimal. By sourcing globally, a company can afford more senior team members early on, and will likely retain them longer because there will be less cutthroat competition for staff located outside the major tech hubs. That stability preserves continuity when a startup needs it most.
During my time with our fund, we invested in 50 software- and data-driven companies in the US and abroad. With our help, they were able to recruit top engineering and data science talent in a matter of weeks rather than months and enjoy an annual turnover in the low single digits rather than tech industry averages that can exceed 20%.
Our companies were also able to grow and reach operational breakeven much faster with less need for external capital. This financial and operational agility helped our portfolio companies survive the black swan of a pandemic without being forced to shut down—even those doing business in sectors most directly affected, such as construction and events.
How to Transform Venture Capital
There are a number of principles we developed for creating a forward-looking VC fund.
But before I discuss them, I want to make it clear that this strategy is not outsourcing. Outsourcing refers to contracting a firm (rather than individual people) to build a product with its own engineering staff. I don't recommend that approach for early-stage companies, as it creates ambiguity around the ownership of critical elements of the product and conflicts with the learning process inherent in Agile development.
Successfully executing the strategy I recommend means not only hiring global talent directly, but also committing to help build the global talent pool first. Recruiting is the final piece of the puzzle.
Don't Be Afraid to Start Small
As you search for potential talent hubs, don't limit yourself to big cities. In the US and abroad, smaller cities often become stronger tech and startup hubs than the primary commercial and government centers. The startup communities in the Denvers and Atlantas of the world are places where it's easier to network and less expensive to do business.
Invest in Talent Development
Consider launching tech education programs, as we did. The benefits are twofold: You're helping to train the next generation of tech workers, and your foundation may provide a tax-efficient means to reinvest your fund's returns into the long-term talent pool your portfolio companies need.
You might also consider partnering with tech universities and meetups, and co-sponsoring coding boot camps with local or international organizations. These are effective ways to build your talent network and to connect with key leaders in technology and business in those regions. These partnerships can help you identify potential CIO and CTO candidates for your portfolio companies too.
That's important because once your portfolio companies are ready to hire, you should help them establish their executive teams first to ensure that junior hires align with the companies' strategies. For tech companies, the most effective and scalable approach is to first hire a senior technology leader with experience working in your target region—in our case, Latin America—and empower them to use their knowledge of that region to staff the team.
And remember, all of these connections aren't just people you hire for the job at hand—they may become future founders whose companies you invest in down the road.
For funds embarking on this strategy, I recommend focusing initially on geographies with similar time zones to streamline the logistical and operational elements. As a US-based fund, for example, we focused on select cities in the Western Hemisphere. European VCs facing ultracompetitive labor markets should likewise look to build partnerships with emerging tech hubs in Africa. Once you've found your footing in a few localities, you can expand to a fully global approach.
Recruit Respectfully
Even though there may be less competition outside the major Western tech hubs, recruiting top talent isn't easy anywhere. When approaching potential senior leaders to connect with your portfolio companies, don't underestimate their other options. You may be competing with large global companies that are able to pay more than you can at first. What you offer is the opportunity to take ownership in something new and to gain exposure to emerging technologies and ideas.
Before you recruit a potential senior leader, approach them first for advice on your portfolio company's product and business model, and on how to engage with their areas' tech communities first. Be sincere about your interest because if they ultimately take the job, they will expect to use their expertise to grow the company.
Build Teams Without Borders
Encourage your portfolio companies to treat their global talent as part of the same team. US team members should spend significant time with their international counterparts. If the company is fully US-based, then it should bring new non-US team leaders stateside for at least a month of onboarding. If the whole team is already fully remote, US leaders should include new international senior staff in any annual retreats or important in-person events.
Remember Legal Jurisdictions
Legally, your companies require both US and local jurisdictions. They will each need to create a local subsidiary to act as a pass-through vehicle to send funds from the US to pay local team members. The team members should have employment contracts with both the parent company and this local entity. This provides companies with recourse through their local jurisdictions, if needed. Any share or option grants are only offered through the US entity, however, as this is where the economic value resides.
Partner Locally
Above all, don't go it alone. The right partnerships are critical to any global business venture, and there will be many universities, tech meetups, investors, and incubators that will welcome international co-investors and partners. And don't forget the local VC community. Having a rich local community of value-add investors where you're hiring also plays a critical role in getting founders to their initial launches and helping them to gain traction.
As with everything in entrepreneurship and technology, begin on a small scale to validate your approach and learn from errors along the way.
It's Time for Venture Capital to Change
Talent is both a startup's greatest expense and its source of all value creation. Investors have a fiduciary duty to maximize the returns for capital invested, and the most sustainable solution is to rethink where and how talent is sourced. Thanks to the many cloud-based telecommuting solutions that the VC industry helped launch, it's now easier than ever for companies to build and manage high-performing global teams.
The greatest opportunity of our time to do well and do good is to resolve the problem that talent is everywhere but the chance to use it is not. Venture capital is uniquely poised to level the playing field. The future of talent is global, and by investing in talent first, you will strengthen the companies you invest in, help grow entrepreneurship in areas that have been overlooked, and participate in building a global economy that is open, innovative, and resilient enough to meet the challenges of the 21st century.
Understanding the basics
How is venture capital evolving?

Venture capital is evolving beyond capital to offer other forms of value as well. A venture capital portfolio strategy that invests in global talent development for its companies will help those businesses hire faster, retain employees longer, and break even sooner.

Why invest in talent development?

Talent development is an important part of a venture capital talent acquisition strategy because it helps to build a network of highly skilled candidates to hire. It is also a wonderful way to support the growth of talent in emerging tech hubs.

What is the difference between recruitment and talent acquisition?

Recruitment is the final stage of talent acquisition. A talent acquisition strategy involves a variety of tactics, including developing talent, networking with talent, optimizing compensation packages, marketing the workplace to potential hires, maximizing employee referrals, and more.
Located in New York, NY, United States
Member since November 21, 2017
About the author
Erik is a co-founder of a global venture capital fund that has invested in 50 startups (raising more than $500 million) and has realized six exits. He serves as Toptal's Chief Economist.
---
authors are vetted experts in their fields and write on topics in which they have demonstrated experience. All of our content is peer reviewed and validated by Toptal experts in the same field.
Expertise
Previous Role
Founding Partner
Previously At