5 Lessons From Fast-growing Tech, Energy, and Fintech Companies
Worried about the impact of economic volatility on your company's revenue? Toptal asked leaders of four hypergrowth companies what drives their continued expansion.
Worried about the impact of economic volatility on your company's revenue? Toptal asked leaders of four hypergrowth companies what drives their continued expansion.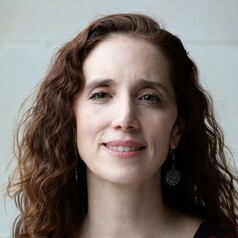 KJ is the former Executive Editor of Smart Enterprise magazine and now writes about business, technology, and software for The Wall Street Journal, The New York Times, and Robb Report. KJ has a master's in journalism from New York University and a certificate in Diversity, Equity, and Inclusion in the Workplace from the University of South Florida Muma College of Business.
As the global economy continues to accelerate out of the 2020 slump, business leaders are once again focused on building revenue. While executives are generally optimistic about their ability to earn, 43% of CEOs in a 2022 PwC survey said they were very or extremely worried about how inflation, changes in the labor market, and other macroeconomic factors could impact their goals.
Despite the continued uncertainty around the world, however, the number of hypergrowth companies—businesses with a compound annual growth rate of more than 40%—continues to rise.
What are these rapidly expanding companies doing right? And how can other businesses, large and small, follow suit? Toptal Insights asked leaders at some of the fastest-growing companies in the US about the tenets underlying their thriving businesses.
Employees Should Be Able to Choose Where and When They Do Their Jobs
UiPath, a hypergrowth automation software company that ranks 18th on Inc.'s 2021 Best-Led Companies list, allows its employees to work where and when they want, Chief Marketing Officer Bobby Patrick tells Toptal. He believes this hyperflexibility is one reason the company has a low churn rate and has reported tremendous growth—going from $2.2 million in revenue in 2016 to more than $800 million in its latest fiscal year. "The days of 9-to-5, come to the office—even before the pandemic that [wasn't] our way to operate," he says. Instead, "people can flex quickly to accommodate not only the work they do but also how their work fits into their life."
In practice, this kind of work-life cycle could look like an employee working fairly continuously for a week to finish a project, then just logging on for a couple of hours—or not at all—when things are slow or they have family or other obligations to attend to.
It may be easy to dismiss this way of working as something that's only possible at scrappy, young tech companies. But UiPath is nearing its 20th birthday and has 4,000 employees. And Dell Technologies, ranked 28th on the Fortune 500 list, has been a pioneer in the area of workplace flexibility since 2009, offering many options to employees, including remote work, asynchronous work, and job-sharing.
"If there's flexibility, employees can better manage their lives, regardless of the configuration of their families or personal circumstances," says Patrick. Happier, less-stressed employees are more productive, and offering flexibility gives employers an edge in the war for top talent: Even before the pandemic, nearly 40% of knowledge workers said a flexible schedule was one of the top three things they considered when deciding whether to accept a job offer, according to one global survey of 14,000 people.
Related: Fortune 500 Executives on the Future of Talent
Personality, Skills, and Diversity Matter More Than Pedigree
VizyPay, a hypergrowth credit card payment processing company based in Iowa, has thrown out traditional requirements like four-year degrees and past sector experience as requirements for open job roles. "When [candidates] come in for an interview, we're not looking at resumes. We hire for attitude and effort. Our interviews never really revolve around [industry] experience," CEO and Founder Austin Mac Nab tells Toptal. That approach seems to be working for the company, which has a three-year growth rate of 7,383% and is 45th on the latest Inc. 5000 list of the fastest-growing companies in the US.
Rather than scanning resumes for Ivy League degrees or trying to poach employees from top competitors, VizyPay drills down into job candidates' core values and personality traits. "No matter if it's good, bad, or ugly, we want to know their story," says Mac Nab. "We just want to get to know the person that we're about to [stand shoulder to shoulder] with."
To that end, Mac Nab and VizyPay Managing Partner and Executive Sales Director Frank Pagano interview and sign off on every new hire to make sure they're a fit. "Quite honestly, a lot of the people that work here probably have been overlooked in the past—myself included—because we didn't have the right education or we didn't have the right work experience," Pagano tells Toptal.
Unsurprisingly, this modus operandi has helped the company build an extremely diverse workforce. In 2021, VizyPay was named the top small company in Iowa for diversity, equity, and inclusion by Energage and the Des Moines Register.
Having a wider range of viewpoints and experiences among your staff leads to more creative thinking and fresh ideas, says Mac Nab, and he believes it has been a key component of the company's success. Indeed, a growing body of research suggests that an inclusive workplace drives employee wellness, engagement, and productivity. Studies also suggest that highly diverse companies are more profitable and more innovative than highly homogeneous organizations.
Employees Will Drive Innovation If You Give Them a Voice—and Make It Safe to Speak Up
Businesses can benefit greatly from workers' creative new ideas and from their complaints. In a study published in the Academy of Management Journal in 2021, researchers found employees must feel psychologically safe at work in order to offer useful criticism to leadership. That's why UiPath allows employees to share feedback anonymously, reducing the fear of blowback or retaliation.
While it's true that asynchronous, anonymous forums can encourage harsher feedback—thanks to a phenomenon known as online disinhibition—business leaders may want to get more comfortable with hearing the unvarnished truth if they want to make meaningful strides in retaining top talent. "I think that's really tough for big companies," says Patrick, the UiPath CMO. "You've got to be OK with things breaking if you want to drive fast growth and be open to and encourage solutions from anyone on staff."
Gathering ideas and solutions from front-line employees is something that Arthur Orduña knows something about. As Chief Innovation Officer at the investment firm Circumference Group, Orduña focuses on rapidly scaling new businesses. He has helped lead successful growth strategies at small, medium, and enterprise companies and says employee ideas were a game-changer when he was Chief Innovation Officer for Avis Budget Group.
At the time, the car rental giant had too many unhappy customers. "The NPS scores [a measure of customer loyalty] for car rental companies are traditionally not great," Orduña tells Toptal. But instead of requiring new trainings or doing a top-down reorganization, the company asked its workers to identify the main problems with their departments and launched a contest to see what team could come up with the most creative and effective solutions. Teams began competing to see who could get the biggest boost in overall scores, and the combination of employee ideas, rewards, and friendly competition was just what the company needed. Customer satisfaction rose across the board, says Orduña, and the winning team's scores increased 42% over the course of the competition.
"We created this cycle and the ability for continuous improvement in the company. Employees were motivated to improve, and saw that the solutions to these problems were already there. We just had to provide the right tools, the right incentive, and to reward these folks at all edges of the company to come forward and become the problem solvers."
Talent Has No Borders
Another common trait among hypergrowth companies is recruiting global talent. The chances of finding the best and the brightest grow exponentially when your candidate pool is no longer restricted to the boundaries of one city, country, or hemisphere.
Toptal, which has been in hypergrowth since 2019, is based in the US but 75% of its 1,100 full-time employees live and work outside the country, as do a large number of the 10,000 skilled freelancers in its contingent talent network. "There's only so much talent that we can attract within the country—so the way to leverage the power of talent is to get the best minds irrespective of where they are," says Raj Vishnu, Senior Client Partner for Healthcare and Life Sciences at Toptal.
UiPath does the same, hiring people regardless of their location. The current the pool of US-based security engineers and software engineers, as well as those getting ready to graduate and enter the job market, is relatively small. Companies must think outside North America if they want to fill those roles. "What happens [when we are focused on hiring globally] is that we attract the best of the best in all cities," Patrick says.
Empathy Isn't Optional
Kindness and empathy, once considered nice-to-have "soft" skills, are increasingly linked to producing "hard" business results like expansion, talent retention, and increasing revenue.
Empathy supports innovation, too, according to a 2020 Catalyst survey of more than 800 US workers, managers, and executives in financial services, IT, healthcare, education, retail, and government. More than 60% of people with highly empathetic senior leaders said they were "always innovative" in their job roles, versus just 13% of those with less empathetic leadership.
Matthew Nemerson, Vice President of Marketing at Budderfly, an energy efficiency solutions company with a three-year growth rate of 22,468%, believes empathy is one of the key drivers of the company's explosive growth. "We put ourselves in the shoes of our clients, our neighbors, our employees, and our board of directors," Nemerson tells Toptal. "We have to understand what they're going through, and if we can relate to them and be empathetic, and then also project that empathy out to new clients that's going to put us in a different position."
One aspect of Budderfly's empathetic culture is expressed by managers regularly asking employees what they need to be successful and feel supported. "Making sure the needs of our workers are met—the right information about their jobs and the right equipment in their homes—is something that happens several days a week with team meetings." What's discussed in those meetings is then reported up the line to the head of HR, CFO, and CEO, who meet twice a week and take quick action on those needs.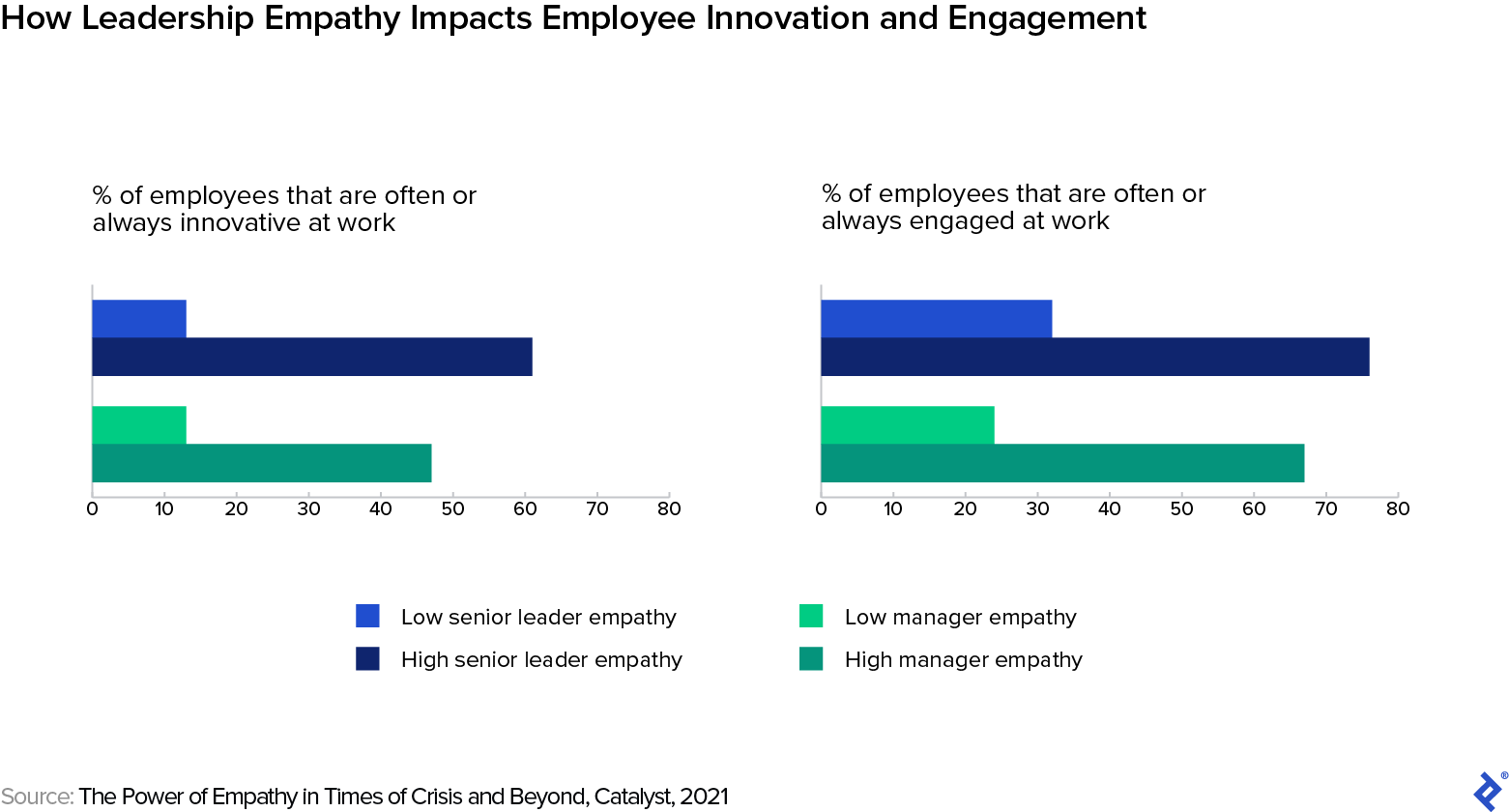 Empathy also helps support expansion at Human Bees, says Ranil Piyaratna, CFO of the recruiting and staffing firm, which focuses on the manufacturing, construction, and agriculture industries and tops the Inc. 5000 list of fastest-growing companies with a 48,345% three-year growth rate. "I teach my managers a concept called 'see the gray,'" he tells Toptal. "A lot of people come in [to work] with their own baggage, and managers often don't realize that. They can't put themselves in the other person's shoes, and see things as black and white. I'm like, 'Hey, let's step back here. Why are they doing it wrong? They're not doing this on purpose.' As opposed to saying, 'They're not a good employee,' we look to see the gray and say, 'What's good about them? What are these qualities that make them very unique that we could harness to the company's benefit?'"
Related: Can You Train Managers to Be Empathetic?
Holding on to the good talent you already have is more important than ever. And doing that requires leaders to understand their employees better as people than they have in the past.
"Employee churn isn't as inevitable as the news makes it out to be," says UiPath's Patrick. Employers need to shift their mindsets in order to slow talent migration. "Instead of thinking how to attract prospects who are leaving other organizations, companies need to prioritize supporting the employees they already have. By nurturing stronger and diverse leaders and bolstering employees' capabilities at every level of the business, organizations can build a team that sticks together in the long term."