4 Bold Predictions About the Metaverse and Business
The so-called "future of the internet" isn't here yet, but it's coming soon. Here's how to start preparing your company for impending metaverse growth.
The so-called "future of the internet" isn't here yet, but it's coming soon. Here's how to start preparing your company for impending metaverse growth.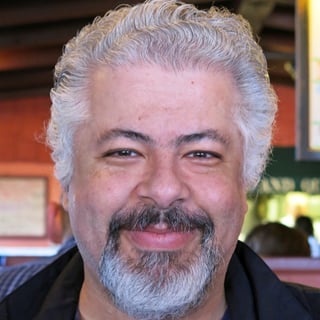 Laurence is Toptal's Senior Writer for Technology and Software. A former analyst at Google and ITA Software, and researcher at Bell Communications Research and Verizon Laboratories, he now writes about how AI, VR, cloud computing, and software impact business and the future of work. Laurence has five patents for AI and internet applications.
The metaverse isn't quite "real" yet, but with massive R&D spending by tech giants like Meta and Microsoft, and increasing participation from major global brands, including Disney, Acura, and Molson Coors, it will be soon. Although the exact form the metaverse will take is as yet unknown, it's generally defined as an emerging network of extended-reality digital spaces where people can interact with each other, game, work, learn, and—of course—spend money.
Experts anticipate rapid metaverse growth in the near future: Goldman Sachs projects that between 15% and 33% of the global spend on digital transactions will eventually switch to the metaverse. Citigroup predicts that the market value of the metaverse will reach $8 trillion to $13 trillion by 2030.
Where is the metaverse going, and what do business leaders need to know to get ready for it? Toptal interviewed leading experts and pored over the most recent market research to find out.
The Latest Understanding of the Metaverse
The metaverse is "the next evolution of the internet," Allan Cook, Managing Director of Deloitte Digital and leader of Deloitte's Digital Reality business, tells Toptal. But there's no cohesive vision on what it will look like, says Leo Gebbie, Principal Analyst at CCS Insight: "There's a complete lack of real agreement as to what it is or what it does or what it should be." Cook agrees. "It's like the blind men and the elephant," he says: Depending on your approach to the metaverse, you get a different view of what it is.
That said, Cook, Gebbie, and the other experts we talked to agree on a few things: The metaverse involves spatial computing and the overlay of the virtual world onto our physical one, and includes technologies such as blockchain, cryptocurrencies, artificial intelligence, NFTs, and virtual and augmented realities.
Metaverse Prediction No. 1: It Won't Go Mainstream for 3-5 Years
Some major global corporations, like Honda, have already dipped their toes in the metaversal pool, establishing branded presences on independent platforms such as Decentraland and The Sandbox. But existing metaverse platforms are still small in scale, and the quality of graphics and user experience is fairly poor, due in part to the limitations of graphics in today's VR headsets and phones.
Early adopters may choose to enter the metaverse now for brand recognition and R&D. But is there an immediate need for most companies to stake their claim at this nascent stage? Our experts say probably not. Even though VR-based corporate training and various forms of gaming are already popular, most businesses are unlikely to miss out on major branding or revenue opportunities in 2022.
However, just because the metaverse may not be real for you this year doesn't mean you can ignore it, says Gebbie. Over the next three to five years, the metaverse will move into the mainstream as more and more businesses join in, and most of the experts we spoke with believe that the platforms will be broadly visible by 2025. "There are plenty of companies that could probably watch and wait and take their time," he says. "But [leaders should] ensure that they are at least remaining up to date with trends in the segment."
The problem for companies with substantial internet presences is that trends like metaverse branding have a way of snowballing with great rapidity, as fear of missing out galvanizes activity. And the fact is, says Gebbie, if all your competitors are engaging customers and partners in the metaverse but you're not, that fear is founded—you really are missing out. That means company leaders should monitor their competitors and start strategizing about the best use cases for their sectors.
The big question: When will the metaverse be so established that it will be impossible for businesses with an online presence to avoid it? Mark Zuckerberg said in April 2022 that he expects Meta will earn little to no revenue in the metaverse for the next several years but that the work the company is doing in the sector now is "laying the groundwork for what I expect to be a very exciting 2030." Our experts agree that by 2030, the metaverse is likely to be inescapable.
"We've already seen the way that virtual-reality gaming has started to take off as a driver of revenue," Gebbie says. "And I think we will see attempts to monetize and commoditize more and more forms of content. Things like shopping for physical goods in virtual worlds. There are already examples where you can do things like browse furniture and use augmented reality to project what it would look like physically in your real world."
Metaverse Prediction No. 2: Serious Privacy, Security, and Legal Concerns Will Arise
As increasing volumes of transactions are conducted on metaverse platforms, security will become a serious issue, experts tell Toptal.
Phishing
People have learned, more or less, how to notice and avoid routine scams and malicious threats conveyed via email or texts, though ransomware attacks against organizations and government agencies are an escalating problem. Not only are spear-phishing and similar attacks equally possible in the metaverse, but the elements that make extended-reality worlds appealing—social avatars in lifelike 3D spaces—could make social engineering harder to combat there.
Unregulated Cryptocurrency
Existing metaverse platforms are based on cryptocurrencies, blockchain, and NFTs—technologies that come with specific security risks and liabilities such as repository and wallet theft, and illegitimate NFT minting. Before there is broad adoption of the metaverse, there will need to be regulation of underlying technologies to assure participants that their data and funds are safe and secure, Daniel Novy, PhD, tells Toptal. Novy, a research scientist at the MIT Media Lab, says, "You're going to end up with specialized lawyers, just as there are IP lawyers and web lawyers. They pop into existence once a certain level of technology is achieved."
Data Privacy
Privacy is also a big concern. "The amount of data being collected is enormous, and there's going to be so much more information about us out there [once the metaverse goes mainstream]," says Cook. "We need to start thinking about how that data will be used."
Novy frames the privacy issue in terms of one of today's most ubiquitous platforms, Facebook. One reason Facebook became so powerful, he reasons, is that the platform became a repository of people's personal photos. As long as your photos are on Facebook, you will return again and again, as will your family and friends. All those engagements "count as eyeballs for ad revenue," he says. "If you begin to think about the things you could be doing in the metaverse, we're talking about the creation of a possible memory palace; that is, an actual destination where you could house not just photos but video and experiences that you recorded in other metaverses. [Then] you're going to see some very real needs for privacy and security, because [a bad actor] could essentially steal someone's entire background, their entire memory."
These problems won't prevent the metaverse from flourishing and supporting the levels of commerce projected by Goldman Sachs and Citigroup, say Novy and Cook. But ethical and legal concerns like these will have to be addressed by businesses that want to participate as the metaverse develops.
Metaverse Prediction No. 3: Design and Tech Services Will Be in Extremely High Demand
Establishing a branded presence in the metaverse right now can be complicated. It's one thing to bid on a plot of virtual "land" for your firm from one of the existing metaverse providers, but it's quite another to build that location out in an engaging, safe, and visually appealing way.
Today, there aren't many specialists in branding, design, and UX for the metaverse—it's still too new. But the sector is heating up, says Pushkar Patange, a virtual- and augmented-reality designer who worked on Doom 3 for PlayStation, and is a member of Toptal's freelance network. His design studio has been involved with a variety of metaverse applications, and skilled talent are interested in joining these projects because of the allure of new technology and the opportunity to set direction for the industry, he tells Toptal. "[With] mobile or web, the UX has been set. We have trends, we have patterns that we can follow. But [in the metaverse], we are creating and fine-tuning and iterating on patterns as we build," he says. "It's a bit of a struggle, but we get to be on the leading, cutting edge of the technology. So there's a thrill to it, but it can also be a lot of hard work."
Demand for designers like Pushkar is sure to explode as soon as enough major brands enter the metaverse. Since most companies won't be able to staff up their own metaverse departments, at least initially, creating relationships with contractors, consultants, contingent workers, and outside agencies will be key.
Metaverse Prediction No. 4: Standardization Is Coming
There is an emerging conflict between two visions of the metaverse. Decentraland and The Sandbox are promoting a decentralized, interoperable metaverse future consistent with decentralized finance and decentralized autonomous organizations. But large tech firms like Meta and Apple are primed to erect walled gardens in an attempt to dominate a sector or even an entire technology.
"Realistically," says Gebbie, "Meta wants to own the entire platform." Novy agrees: "There's a very strong tension between [the] attitude [that] believes in decentralized authority and distribution of responsibility and individual power, and Big Tech attitudes, which naturally want to dominate and absolutely control everything."
Some degree of interoperability and standardization will have to be in place before the metaverse takes off, if only to provide a reasonable degree of stability and security for big corporate participants. Novy draws a parallel with the Internet Engineering Task Force that established the basic rules and protocols for the internet. Even big players like Microsoft had to conform to IETF standards in the 1990s—and Novy predicts that Meta and other major metaverse firms will eventually be subject to systematic interoperability rules and protocols.
Although it may not yet be time for your company to set up shop in the metaverse, that time is coming relatively soon. Massive investment from serious Big Tech and retail players suggests that businesses large and small should, at the very least, start to track industry and competitive developments, brainstorm use cases, and cultivate relationships with talent vendors and expert advisors. These moves will help them prepare for a digital future that's sure to hold unexpected developments and opportunities. "There are many ways that the metaverse has the ability to change how we live, how we work, how we buy, in day-to-day life," says Gebbie. And, adds Cook, "We're still learning the rules of this brand-new frontier."